Binnenklimaat sensor Tree
De Ruimteklimaat Sensor Tree wordt gebruikt voor het meten van temperatuur, vochtigheid en CO2-waarde in ruimtes of soortgelijke toepassingen. De openingen in de behuizing zorgen voor een snelle reactie op veranderingen in de meetwaarden.
Datasheet Ruimteklimaat Sensor Tree
Inhoudsopgave
---
Montage↑
De aanbevolen montagehoogte voor de Ruimteklimaat Sensor is bij wandmontage tussen 1,2 en 1,5 m. De positionering van de sensor moet worden aangepast aan de toepassing. (bv. afhankelijk van waar de personen in de ruimte zich normaal gesproken bevinden.)
Bevestig het montageframe op de gewenste montageplaats.
Sluit de voeding (oranje/witte klem) en de Tree datakabels (groen/witte klem) aan. Na het inschakelen van de voedingsspanning knippert de statusled, na korte tijd oranje, als de bedrading correct is (verbinding met de Tree Extension / Miniserver tot stand gebracht).
Bevestig het apparaat door het op het montageframe te klikken.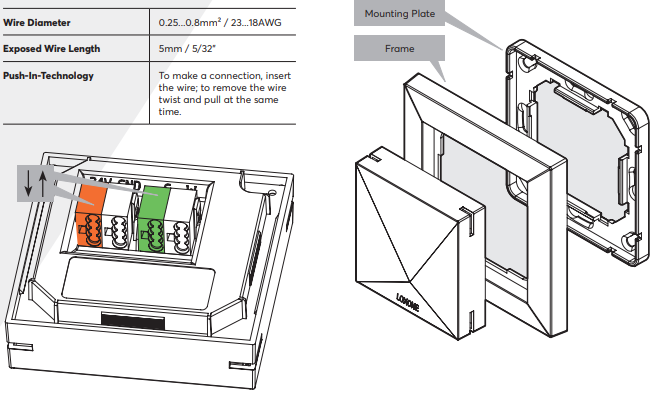 ---
Inbedrijfname↑
---
CO2 sensor kalibreren↑
Handmatige kalibratie van de CO2-sensor is niet noodzakelijk, maar kan worden uitgevoerd voor speciale toepassingen.
Hiertoe moet u er eerst voor zorgen dat de CO2-waarde op het meetpunt zo laag en constant mogelijk is.
Met een geschikt meetapparaat meet u nu de CO2-waarde op het meetpunt.
Indirect daarna wijst u de gemeten waarde toe aan de sensor via een device command of webservice commando, in het volgende voorbeeld 450ppm:
miniserver/dev/sys/wsdevice/devicename-or-serialnr/CalCO2/450
---
Sensoren↑
| Korte beschrijving | Beschrijving | Eenheid | Waardebereik |
| --- | --- | --- | --- |
| Temperature | Levert de Air temperatuur. | ° | -40...125 |
| Humidity | Levert de Air luchtvochtigheid. | % | 0...100 |
| CO2 | Levert de CO2 waarde. | ppm | 400...10000 |
---
Diagnose ingangen↑
| Korte beschrijving | Eenheid | Waardebereik |
| --- | --- | --- |
| Online status Binnenklimaat sensor Tree | Digitaal | 0/1 |
---
Eigenschappen↑
Korte beschrijving
Beschrijving
Standaardwaarde
Onlinestatus bewaken
Indien aangevinkt dan wordt je via de systeem status op de hoogte gesteld via de Loxone App of Mailer, als het apparaat niet langer beschikbaar of offline is.
-
Serienummer
Specificeert het serienummer van het apparaat.
Voor extensies: Voer 'Auto' in om automatisch een Extensie met onbekend serienummer te koppelen.
Dit kan alleen worden gebruikt als er slechts één Extensie van hetzelfde type is.
Sla op in de Miniserver, om de Extension te koppelen.
Daarna moet het programma worden geladen vanuit de Miniserver om het werkelijke serienummer van de Extension in het programma over te brengen.
-
Apparaattype
Tree apparaat type
-
---
Veiligheidsinstructies↑
De installatie moet worden uitgevoerd door een gekwalificeerde elektricien in overeenstemming met de geldende voorschriften.
De installatie vereist inbouw in een geschikte behuizing om bescherming tegen contact, water en vuil te garanderen.
Het apparaat mag niet worden gebruikt voor veiligheidskritische toepassingen.
---
Documenten↑
Datasheet Ruimteklimaat Sensor Tree
---