Met deze bouwsteen kunnen alle poort bouwsteen gecontroleerd worden.
Open met een dubbelklik op de bouwsteen het dialoogvenster om de gekoppelde bouwstenen te selecteren

Inhoudsopgave
---
Ingangen↑
Contractie
Korte beschrijving
Beschrijving
Waardebereik
Tg
Toggle
Schakelt tussen openen, stoppen, sluiten.
Voor bediening met één knop.
0/1
Co
Complete open
Stoppen niet mogelijk.
0/1
Cc
Complete close
Stoppen niet mogelijk.
0/1
T5
T5 control
Knop 1: volledig openen
Knop 4: volledig sluiten
∞
Off
Off
Puls: zonwering stopt met bewegen.
Aan: vergrendelt de bouwsteen.
Dominerende ingang.
De naam van de aangesloten sensor wordt gebruikt in de gebruikersinterface.
0/1
DisPc
Disable periphery control
Blokkeert de ingangen Tg, Co, Cc, T5 indien ingeschakeld (b.v. kinderslot, reiniging)
Controle via de gebruikersinterface is nog steeds mogelijk.
0/1
---
Uitgangen↑
Contractie
Korte beschrijving
Beschrijving
AC
API Connector
Intelligente API gebaseerde connector.
API Commands
---
Eigenschappen↑
| Korte beschrijving | Beschrijving | Standaardwaarde |
| --- | --- | --- |
| Selectie | Alle geselecteerde poort bouwstenen kunnen samen aangestuurd worden. | - |
---
Basisprogrammering↑
Een dubbelklik op de bouwsteen opent het volgende venster: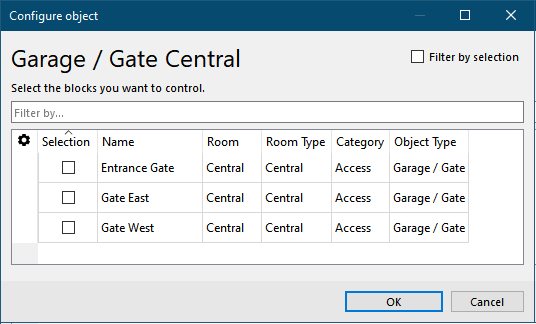 Selecteer de poortbouwstenen die u centraal wilt bedienen. De centrale bouwsteen voert altijd de gevraagde beweging uit bij de geselecteerde poortbouwstenen, ongeacht of de poorten op dat moment bewegen of niet.
Centrale commando's worden niet geblokkeerd door een actieve (DisPc) ingang op het betreffende functiebouwsteen. Als een functiebouwsteen in een centrale bouwsteen wordt gebruikt, wordt dit aangegeven door het centrale symbool op het betreffende bouwsteen.
De functies die op het centrale bouwsteen kunnen worden gebruikt, zijn afhankelijk van de gekoppelde bouwstenen en worden via hun parameters ingesteld. Indien een functieblok een functie niet ondersteunt, kan deze niet worden aangestuurd.