De
IR Extension
maakt in combinatie met maximaal 8 IR-modules de aansturing van infraroodbekwame apparaten mogelijk zoals tv's, AV-ontvangers, beamers, airconditioners, enz.
De Loxone IR Extension en de IR-modules zijn niet meer beschikbaar. Gebruik in plaats daarvan de IR Control Air.
Inhoudsopgave
---
Inbedrijfname↑
De IR Extension wordt geïnstalleerd in een geschikte verdeler op een DIN-rail.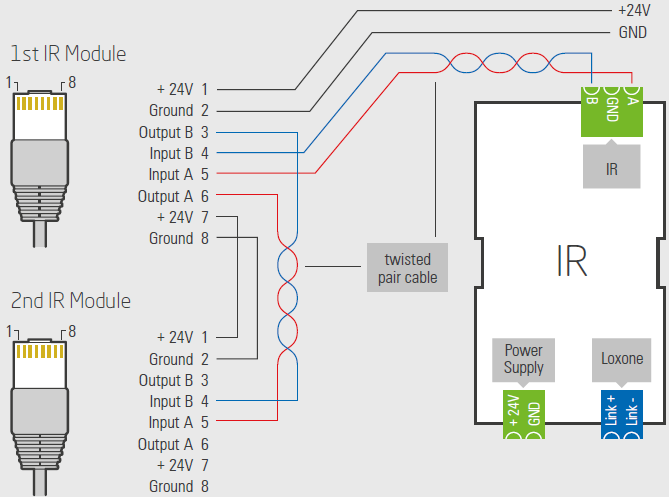 Sluit de stroomvoorziening aan, koppel de Link datalijnen aan de Miniserver en de datalijnen aan de IR-modules.
De IR-modules worden aangesloten met RJ45-stekkers en lineair bedraad zoals op de afbeelding.
Voor de bedrading wordt een CAT5/6/7-kabel gebruikt, de totale kabellengte mag maximaal 500 m bedragen.
De laatste IR-module moet worden getermineerd door de jumper op pin 2/3 te zetten.
Op elke IR-module kunnen 2 IR-zenderdiodes worden aangesloten (3,5 mm jackplug). Als er slechts één zender is aangesloten, moet deze in de linkerbus worden gestoken.
De IR-ontvangerdiode is permanent in de IR-module geïnstalleerd.
Na het inschakelen van de stroomvoorziening start de Extension, de status-LED knippert na korte tijd oranje als de verbinding met de Miniserver correct is.
---
Invoegen van een IR-module↑
Om te zoeken naar IR-modules klikt u eerst op de IR Extension in Loxone Config en activeert u vervolgens IR Extension doorzoeken.
In de zoekresultaten onderaan het Loxone Config-venster staan de aangesloten IR-modules opgelijst.
Markeer nu een module, voer een naam in en klik vervolgens op Apparaat creëren.
Voor het overnemen slaat u het programma achteraf op in de Miniserver.
Daarna zijn de toegevoegde modules klaar voor gebruik en beschikbaar in Loxone Config.
De verdere procedure voor het maken van IR-sensoren (ontvanger) en actoren (zender), evenals voor het maken en aanleren van afstandsbedieningen, wordt beschreven op IR Control Air.
---
Diagnose ingangen↑
| Korte beschrijving | Eenheid | Waardebereik |
| --- | --- | --- |
| Online status IR Extension | Digitaal | 0/1 |
---
Eigenschappen↑
Korte beschrijving
Beschrijving
Standaard waarde
Serienummer
Specificeert het serienummer van het apparaat.
Voor extensies: Voer 'Auto' in om automatisch een Extensie met onbekend serienummer te koppelen.
Dit kan alleen worden gebruikt als er slechts één Extensie van hetzelfde type is.
Sla op in de Miniserver, om de Extension te koppelen.
Daarna moet het programma worden geladen vanuit de Miniserver om het werkelijke serienummer van de Extension in het programma over te brengen.
–
Maximale kabellengte (m)
Maximale kabellengte in meter tot aan de laatste IR-modules.
–
Onlinestatus bewaken
Indien aangevinkt dan wordt je via de systeem status op de hoogte gesteld via de Loxone App of Mailer, als het apparaat niet langer beschikbaar of offline is.
–
---
Veiligheidsinstructies↑
De installatie moet worden uitgevoerd door een gekwalificeerde elektricien in overeenstemming met de geldende voorschriften.
De installatie vereist inbouw in een geschikte behuizing om bescherming tegen contact, water en vuil te garanderen.
Het apparaat mag niet worden gebruikt voor veiligheidskritische toepassingen.
---
Documenten↑
---