De Loxone Wallbox is een laadstation dat dynamisch laden van 1,38kW tot 11kW voor elektrische voertuigen mogelijk maakt.
Met de robuuste Tree interface is het apparaat geïntegreerd in het Loxone systeem en biedt het alle vrijheid voor energiemanagement.
Om de elektrische energie te registreren, kan een energiemeter eenvoudig gemonteerd worden op de geïntegreerde DIN-rail en aangesloten worden op de Modbus interface in het apparaat.
Optioneel kunnen producten zoals de NFC Code Touch, Touch Pure Flex,... direct op het apparaat gemonteerd worden om jouw laadmodus in te stellen of een andere controle uit te voeren.
Datablad Wallbox 11kW 16A Tree
Inhoudsopgave
---
Montage↑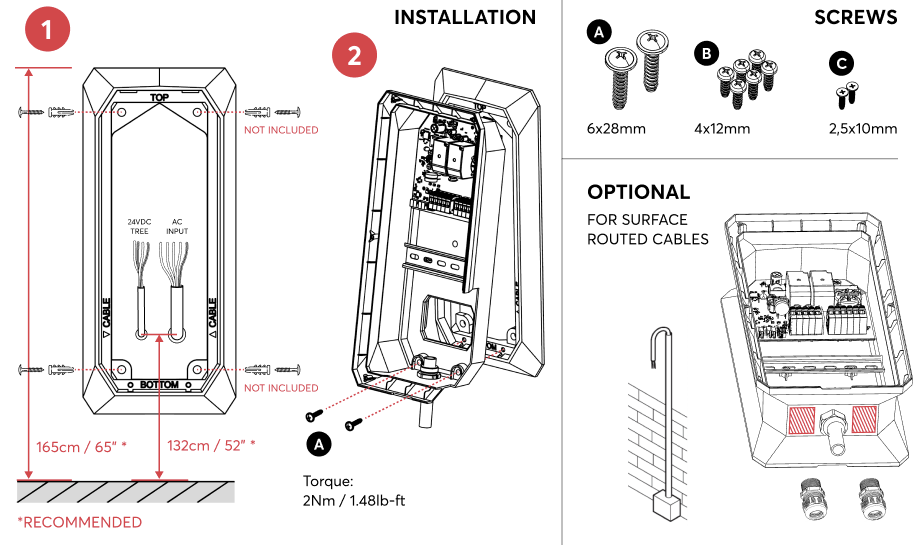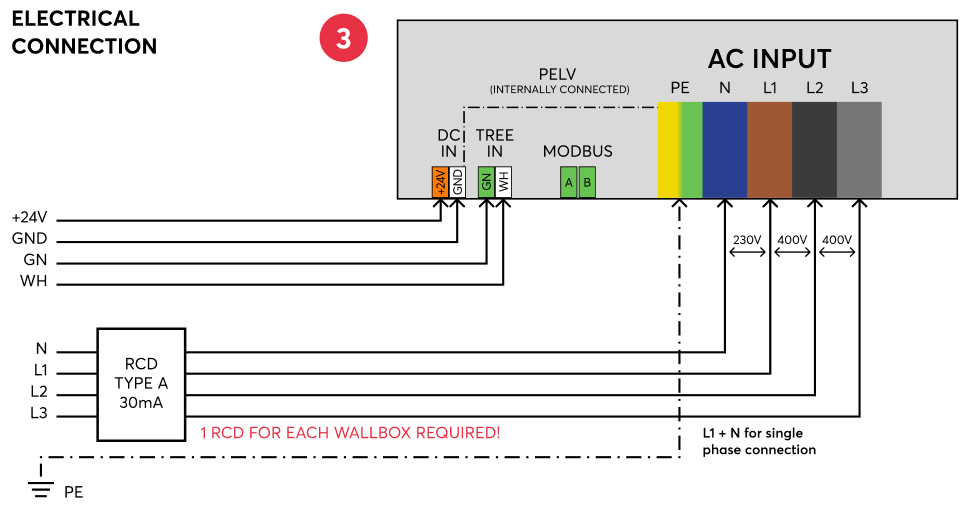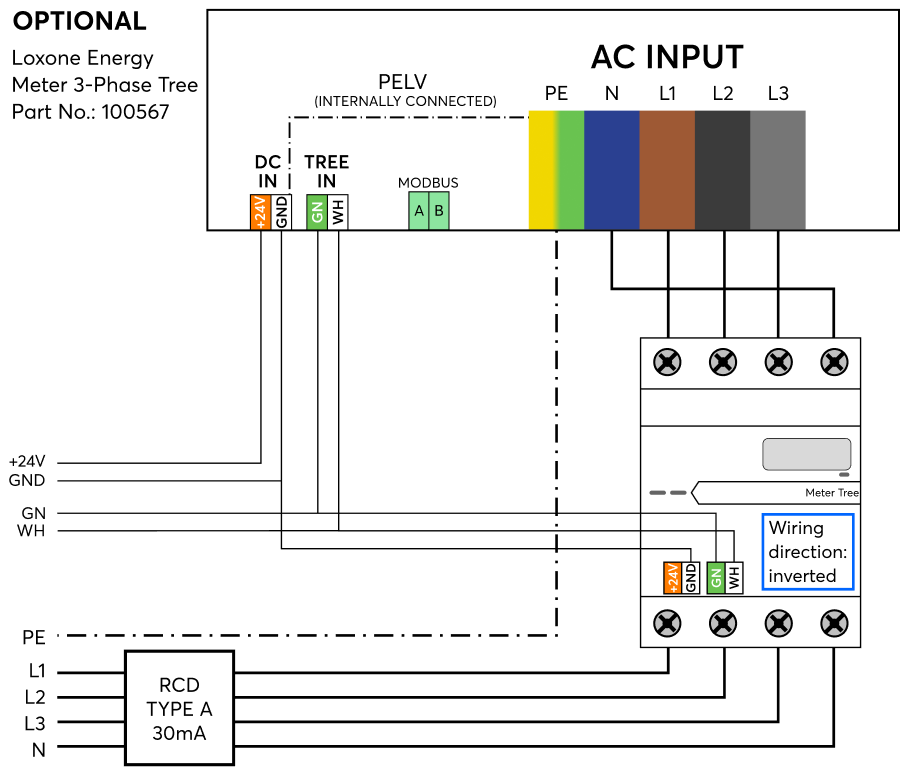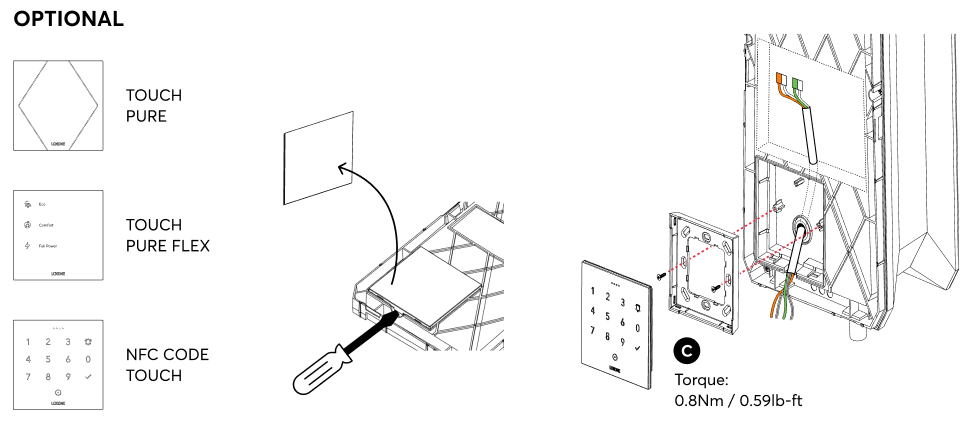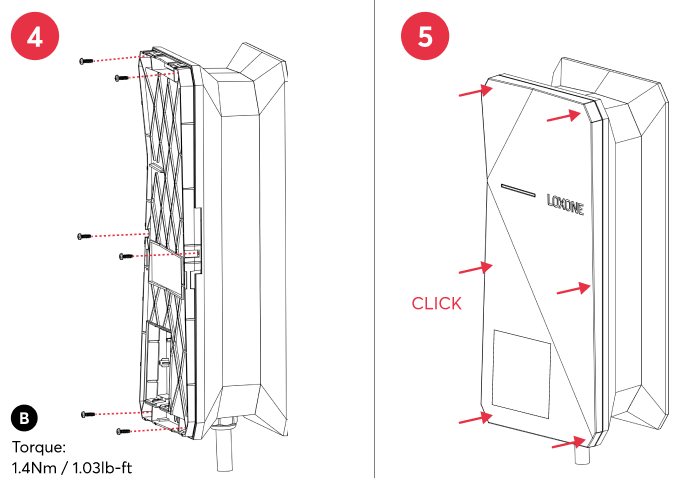 Na montage wordt de voedingsspanning (netspanning en 24V) ingeschakeld, de Wallbox knippert na korte tijd oranje als de verbinding met de Miniserver succesvol is en klaar is voor pairing.
---
Inbedrijfname↑
---
Programmering↑
De Loxone Wallbox wordt geprogrammeerd en ingesteld met behulp van het Wallbox functiebouwsteen in Loxone Config:
---
LED Status↑
| Status LED | Beschrijving |
| --- | --- |
| | Het apparaat is zojuist gekoppeld of opnieuw opgestart en is nu online. |
| | De verbinding met Miniserver is in orde, maar het apparaat is niet gekoppeld. |
| | Apparaat kan geen verbinding maken met de Miniserver via de Tree interface. |
| | Apparaat werd geselecteerd in Loxone Config en wordt geïdentificeerd. |
| | Het opladen is begonnen. |
| | Het opladen is gepauzeerd. |
| | Oplaadfout. |
---
Oplaadkabel↑
Als het nodig is om de laadkabel te vervangen, moet deze door een specialist worden geïnstalleerd en getest in overeenstemming met de nationale voorschriften.
Voor dit doel moet een laadkabel met dezelfde eigenschappen worden gebruikt; deze mag ook korter of langer zijn (max. 7,5 meter).
Het op een andere manier verlengen van de laadkabel is niet toegestaan.
---
Actoren↑
Korte beschrijving
Beschrijving
API Connector
Intelligente API gebaseerde connector.
API Commands
---
Diagnose ingangen↑
| Korte beschrijving | Beschrijving | Eenheid | Waardebereik |
| --- | --- | --- | --- |
| Charging error | Meldt een laadfout. | - | 0/1 |
| Fault current | Meldt een foutstroom. | - | 0/1 |
| Online status Wallbox Tree | | Digitaal | 0/1 |
| Systeem temperatuur | | ° | ∞ |
---
Eigenschappen↑
Korte beschrijving
Beschrijving
Standaardwaarde
Onlinestatus bewaken
Indien aangevinkt dan wordt je via de systeem status op de hoogte gesteld via de Loxone App of Mailer, als het apparaat niet langer beschikbaar of offline is.
-
Serienummer
Specificeert het serienummer van het apparaat.
Voor extensies: Voer 'Auto' in om automatisch een Extensie met onbekend serienummer te koppelen.
Dit kan alleen worden gebruikt als er slechts één Extensie van hetzelfde type is.
Sla op in de Miniserver, om de Extension te koppelen.
Daarna moet het programma worden geladen vanuit de Miniserver om het werkelijke serienummer van de Extension in het programma over te brengen.
-
Apparaattype
Tree apparaat type
-
---
Veiligheidsinstructies↑
De installatie moet worden uitgevoerd door een gekwalificeerde elektricien volgens de geldende voorschriften.
---
Documenten↑
Datablad Wallbox 11kW 16A Tree
Thermische uitschakeltemperaturen
---