De tracker wordt gebruikt om gebeurtenissen in de gebruikersinterface weer te geven.
Inhoudsopgave
---
Eigenschappen↑
| Korte beschrijving | Beschrijving | Waardebereik | Standaardwaarde |
| --- | --- | --- | --- |
| Aantal meldingen | Maximum aantal laatst opgeslagen meldingen. | 2...100 | - |
| Remanentie | Wijzigingen moeten na het opnieuw opstarten van een programma nog voorhanden zijn | - | - |
---
Programmatie voorbeeld↑
Eerst wordt een nieuwe tracker aangemaakt onder Berichten: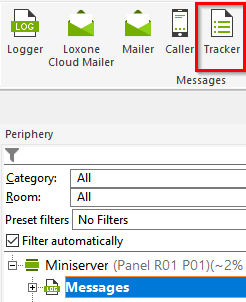 In het volgende voorbeeld geven we de tracker de naam "Access House" en slepen we het object naar de programmeerpagina.
In het eigenschappenvenster kan een tekst worden gedefinieerd voor de twee toestanden van digitale waarden of bij analoge waardeveranderingen, of kunnen waarden van analoge of tekstuitgangen naar de tracker worden geschreven met <v>.
Het maximum aantal ingangen in de tracker kan ook worden ingesteld.
Als nu in ons voorbeeld het huis is ingevoerd, wordt dit in de gebruikersinterface weergegeven met tijdstempel, trackernaam en de ID of naam van de betreffende persoon, die uit de tekstuitvoer van het authenticatiefunctiebouwsteen komt.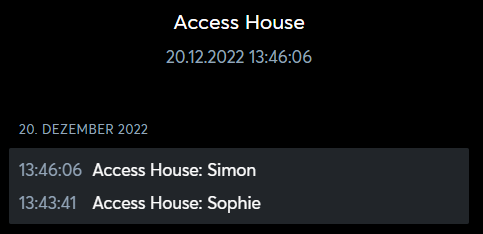 ---
Logger, mailer, beller, tracker toewijzen in het eigenschappenvenster↑
Als alternatief kan in het eigenschappenvenster van verschillende blokken, logger, mailer, caller en tracker worden toegewezen.
Hiervoor moet alleen het respectieve bericht worden aangemaakt en de ontvanger gedefinieerd.
De in de functiebouwsteen gedefinieerde tekst of waarde wordt uitgevoerd.