De Loxone Touch Tree heeft vijf drukpunten om de belangrijkste functies van een ruimte te bedienen. Wanneer een knop wordt aangeraakt, hoort u een klik op als akoestische bevestiging. Ook is er een sensor voor het meten van temperatuur en luchtvochtigheid geïntegreerd.
De grote centrale drukzone is ideaal voor het regelen van de verlichting, terwijl de hoekzones geschikt zijn voor het regelen van de muziek en de zonwering. De Loxone drukknop standaard wordt hier gebruikt. De knoppen kunnen echter ook vrij worden gebruikt voor andere toepassingen.
Houd er rekening mee dat er een zekere vertraging optreedt bij het meten van de luchtvochtigheid door de behuizing. De Room Comfort Sensor is beter geschikt voor een snelle detectie van veranderingen in de luchtvochtigheid.
Inhoudsopgave
---
Montage↑
De installatie wordt uitgevoerd op een geschikte installatiedoos.
Sluit de stroomvoorziening (oranje/witte klem) en de Tree datalijnen (groen/witte klem) aan.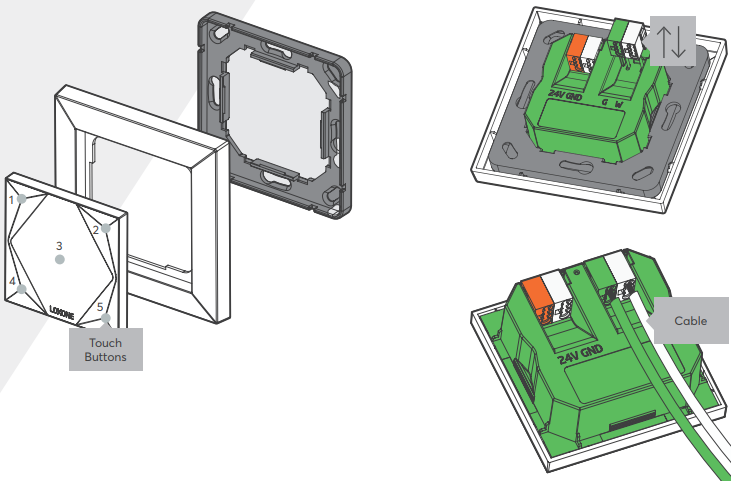 Touch Tree US: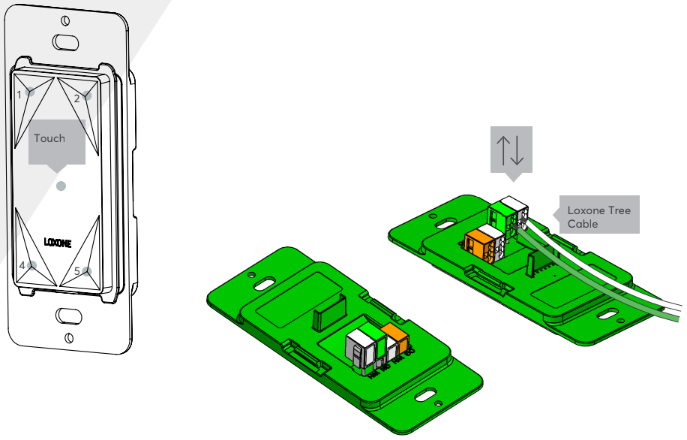 Bevestig het apparaat ten slotte, afhankelijk van de variant, door het op het montageframe te klikken of door het op het frame van de inbouwdoos te schroeven.
---
Inbedrijfname↑
Na het inschakelen van de stroomvoorziening en de juiste bedrading (aansluiting op Tree Extension / Miniserver is tot stand gebracht) knippert de status-LED aan de achterzijde na korte tijd oranje.
---
Sensoren↑
| Korte beschrijving | Beschrijving | Eenheid | Waardebereik |
| --- | --- | --- | --- |
| T5 | Gecombineerde ingang voor de 5 drukknoppunten volgens de Loxone-drukknopstandaard. | - | ∞ |
| Temperature | Levert de Air temperatuur. | ° | -40...125 |
| Humidity | Levert de Air luchtvochtigheid. | % | 0...100 |
---
Diagnose ingangen↑
| Korte beschrijving | Eenheid | Waardebereik |
| --- | --- | --- |
| Online status Touch Tree | Digitaal | 0/1 |
---
Eigenschappen↑
Korte beschrijving
Beschrijving
Standaardwaarde
Onlinestatus bewaken
Indien aangevinkt dan wordt je via de systeem status op de hoogte gesteld via de Loxone App of Mailer, als het apparaat niet langer beschikbaar of offline is.
-
Serienummer
Specificeert het serienummer van het apparaat.
Voor extensies: Voer 'Auto' in om automatisch een Extensie met onbekend serienummer te koppelen.
Dit kan alleen worden gebruikt als er slechts één Extensie van hetzelfde type is.
Sla op in de Miniserver, om de Extension te koppelen.
Daarna moet het programma worden geladen vanuit de Miniserver om het werkelijke serienummer van de Extension in het programma over te brengen.
-
Apparaattype
Tree apparaat type
-
Knop 1 weergeven
Enkelknop beschikbaar maken
-
Knop 2 weergeven
Enkelknop beschikbaar maken
-
Knop 3 weergeven
Enkelknop beschikbaar maken
-
Knop 4 weergeven
Enkelknop beschikbaar maken
-
Knop 5 weergeven
Enkelknop beschikbaar maken
-
Akoestische bevestiging
Akoestische bevestiging met drukknop
-
---
Veiligheidsinstructies↑
De installatie moet worden uitgevoerd door een gekwalificeerde elektricien in overeenstemming met de geldende voorschriften.
De installatie vereist inbouw in een geschikte behuizing om bescherming tegen contact, water en vuil te garanderen.
Het apparaat mag niet worden gebruikt voor veiligheidskritische toepassingen.
---
Documenten↑
---