De RS232 Extension maakt de integratie van apparaten met RS232-interface mogelijk.
Uit de Loxone Library kunnen geschikte templates voor de integratie van apparaten worden geïmporteerd.
Voor meer informatie over de integratie van apparaten zonder sjabloon, zie:
Communicatie met RS232/485
De Extension ondersteunt geen software flow control.
Inhoudsopgave
---
Inbedrijfname↑
De installatie van de RS232 Extension vindt plaats in een geschikte verdeler op een DIN-rail.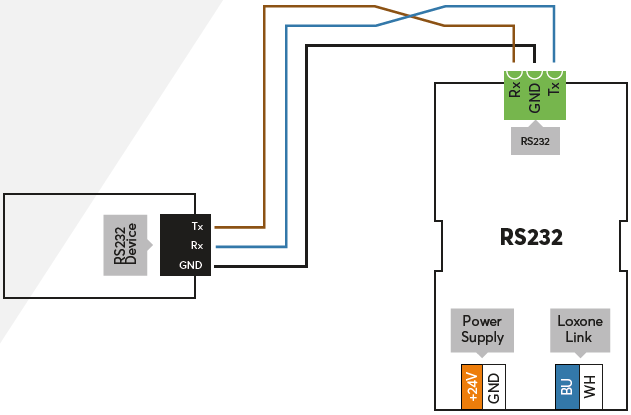 Sluit de voeding en de Link datalijnen aan op de Miniserver.
Sluit een apparaat met RS232-interface aan op de interface zoals in het bovenstaande voorbeeld.
Na het inschakelen van de stroomvoorziening start de Extension, de status-LED knippert na korte tijd oranje als de verbinding met de Miniserver correct is.
---
Diagnose ingangen↑
| Korte beschrijving | Eenheid | Waardebereik |
| --- | --- | --- |
| Online status RS232 Extension | Digitaal | 0/1 |
---
Eigenschappen↑
Korte beschrijving
Beschrijving
Eenheid
Waardebereik
Standaardwaarde
Serienummer
Specificeert het serienummer van het apparaat.
Voor extensies: Voer 'Auto' in om automatisch een Extensie met onbekend serienummer te koppelen.
Dit kan alleen worden gebruikt als er slechts één Extensie van hetzelfde type is.
Sla op in de Miniserver, om de Extension te koppelen.
Daarna moet het programma worden geladen vanuit de Miniserver om het werkelijke serienummer van de Extension in het programma over te brengen.
-
-
-
Serieel protocol
Selectie van het protocol bij de hercodering van de gegevens en, indien beschikbaar, een automatisch aanvraag naar het apparaat .
-
-
-
Opvraagcyclus
Opvraagcyclus voor het geselecteerde protocol in seconden
0 betekent dat er geen automatische opvraging is.
Als er geen protocol is geselecteerd dan wordt deze waarde genegeerd.
s
0...3600
-1
Logboekgegevens
Logboekgegevens op basis van het geselecteerde protocol.
Bij Kostal een door komma's gescheiden ijst van de adressen.
Als er geen protocol is geselecteerd, dan wordt deze waarde genegeerd.
-
-
-
Baudrate
Baudrate van de seriële verbinding
Bit/s
0...2147483647
9600
Aantal databits
Aantal databits van de seriële verbinding. De Extension ondersteunt slechts 8 databits.
-
8...8
8
Stopbits
Aantal stopbits (1-2) van de seriële verbinding
-
1...2
1
Pariteit
Pariteit van de seriële verbinding
-
-
-
Pause
Specificeert de pauze bij het verzenden tussen pakketten.
s
0...1
0.01
Eind identifier
Identificatiecode voor receptie van een seriële data frame.
Bij erkenning worden de gegevens verder gegeven.
Geef het karakter in hexadecimale vorm weer. (Bijvoorbeeld, 0x0A)
-
-
-
Checksum
Checksum methode resp. frame structuur voor deze verbinding
-
-
-
Positieve bevestiging
Antwoord voor positieve bevestigingsbericht van een ontvangen blok
Bv.: 0x06
-
-
-
Negatieve bevestiging
Antwoord voor negatief bevestigingsbericht van een ontvangen blok
Bv.: 0x15
-
-
-
Onlinestatus bewaken
Indien aangevinkt dan wordt je via de systeem status op de hoogte gesteld via de Loxone App of Mailer, als het apparaat niet langer beschikbaar of offline is.
-
-
-
---
Veiligheidsinstructies↑
De installatie moet worden uitgevoerd door een gekwalificeerde elektricien volgens de geldende voorschriften.
Dit apparaat moet worden gemonteerd op een DIN-rail in een elektrische verdeelkast om bescherming tegen contact met water en stof te waarborgen.
Dit apparaat mag niet worden gebruikt als onderdeel van veiligheidskritische systemen.
---
Documenten↑
---