De pakketsafe maakt het mogelijk om pakketzendingen in uw afwezigheid veilig op te slaan. Via de aansluiting op de Loxone installatie wordt u op de hoogte gebracht van nieuw geleverde pakketten.
De Paketsafe Air is niet langer leverbaar.
Inhoudsopgave
---
Montage↑
Wij raden u aan de pakketsafe veilig te installeren op een plaats die goed zichtbaar en toegankelijk is voor de pakketdrager. Houd ook rekening met de ruimte die nodig is voor de gevulde zak. Gelieve de installatie-instructies te volgen die u onderaan deze pagina vindt.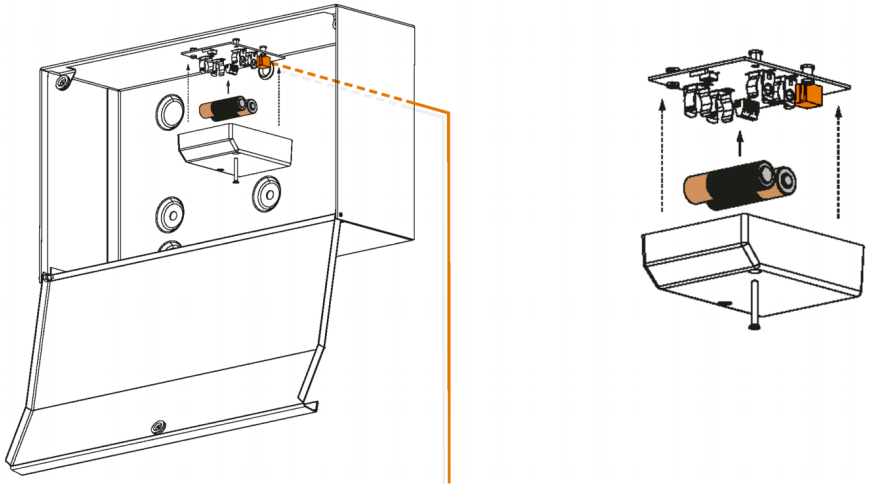 Sluit als laatste de voeding aan (oranje/witte klem) of plaats de twee AA-batterijen.
---
Inbedrijfname↑
De leermodus is actief in de afleveringstoestand nadat de stroomvoorziening tot stand is gebracht. Dit wordt aangegeven door het rood/groen/oranje wisselend licht van de status-LED.
Als u de leermodus handmatig wilt activeren, drukt u de leerknop gedurende ten minste 5 seconden direct na het aansluiten van de stroomtoevoer in.
De beschikbare functies verschillen naargelang het toestel op batterijen werkt of op een externe stroomvoorziening is aangesloten. Dit wordt bepaald tijdens de koppeling. Het apparaat moet daarom met dezelfde voedingswijze worden gekoppeld als waarmee het later zal worden gebruikt.
Als de voedingswijze later wordt gewijzigd, moet het apparaat uit de programmering worden gewist en opnieuw worden gekoppeld.
---
Programmering↑
Voor het programmeren van het apparaat wordt de Pakketsafe bouwsteen gebruikt. Sleep het apparaat van de randapparatuur naar de programmeerpagina om het apparaat op te halen.
---
Actoren↑
| Korte beschrijving | Eenheid |
| --- | --- |
| API Connector | Tekst |
---
Diagnose ingangen↑
| Korte beschrijving | Beschrijving | Eenheid | Waardebereik |
| --- | --- | --- | --- |
| Online status Pakketsafe Air | | Digitaal | 0/1 |
| Battery level | Geeft het huidige batterijniveau aan. | % | 0...100 |
| Battery low | Aanduiding van lage batterij, batterij moet vervangen worden. | - | 0/1 |
---
Eigenschappen↑
| Korte beschrijving | Beschrijving | Standaardwaarde |
| --- | --- | --- |
| Onlinestatus bewaken | Indien aangevinkt dan wordt je via de systeem status op de hoogte gesteld via de Loxone App of Mailer, als het apparaat niet langer beschikbaar of offline is. | - |
| Serienummer | Serial number of Air device | - |
| Apparaattype | Air apparaat type | - |
| Ingangen weergeven | Ingangen van pakketsafe weergeven om deze onafhankelijk van de bouwsteen in aparte logica te kunnen gebruiken. | - |
---
Veiligheidsinstructies↑
In geval van een externe stroomvoorziening moet de installatie worden uitgevoerd door een gekwalificeerde elektricien in overeenstemming met de geldende voorschriften.
Het apparaat mag niet worden gebruikt voor veiligheidskritische toepassingen.
---
Documenten↑
Montage handleiding Pakketsafe
---