De Loxone Modbus Air is ontworpen om een apparaat met Modbus RTU-interface te integreren.
Inhoudsopgave
---
Montage↑
Sluit de voeding en de Modbus A/B-datalijnen aan: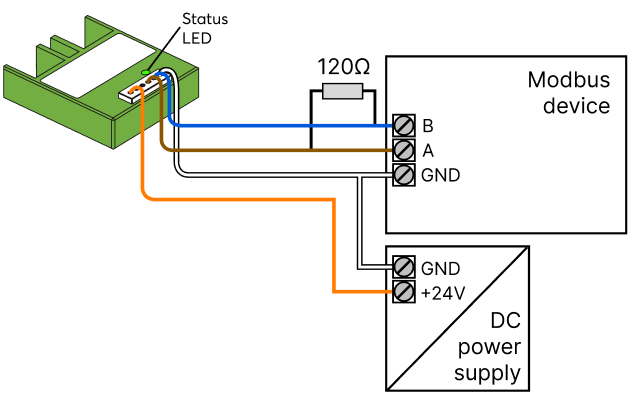 Als het aan te sluiten Modbus-apparaat een geschikte spanningsuitgang levert, is er geen aparte voeding nodig:

Er kan slechts één Modbus-apparaat worden aangesloten, de meegeleverde verbindingskabel mag niet worden verlengd.
Voor de beste ontvangst moet het apparaat buiten metalen afdekkingen worden geplaatst.
---
Inbedrijfname↑
De leermodus is actief in de afleveringstoestand nadat de stroomvoorziening tot stand is gebracht. Dit wordt aangegeven door het rood/groen/oranje wisselend licht van de status-LED.
Om de koppelingsmodus handmatig te activeren, schakelt u de stroom gedurende 10 seconden uit en vervolgens weer in. Als gedurende vijf minuten geen verbinding met een Miniserver tot stand kan worden gebracht, wordt de koppelingsmodus voor een beperkte tijd geactiveerd.
---
Programmeren↑
Uit de Loxone Library kunnen geschikte templates voor de integratie van apparaten worden geïmporteerd.
Ga voor meer informatie over het integreren van apparaten zonder sjabloon naar:
Communicatie met Modbus RTU
---
Diagnose ingangen↑
| Korte beschrijving | Eenheid | Waardebereik |
| --- | --- | --- |
| Online status Modbus Air | Digitaal | 0/1 |
---
Eigenschappen↑
Korte beschrijving
Beschrijving
Eenheid
Waardebereik
Standaardwaarde
Onlinestatus bewaken
Indien aangevinkt dan wordt je via de systeem status op de hoogte gesteld via de Loxone App of Mailer, als het apparaat niet langer beschikbaar of offline is.
-
-
-
Serienummer
Serial number of Air device
-
-
-
Apparaattype
Air apparaat type
-
-
-
Baudrate
Baudrate van de seriële verbinding
Bit/s
0...2147483647
19200
Stopbits
Aantal stopbits (1-2) van de seriële verbinding
-
1...2
-
Pariteit
Pariteit van de seriële verbinding
-
-
-
Timing
Bij Auto wordt volgende tijdschema gebruikt:
Pause: 5 ms als de baudrate kleiner dan 7000 bps is, anders worden er 50 bitperioden gebruikt.
Time-out: 1000 ms
-
-
-
---
Veiligheidsinstructies↑
De installatie moet worden uitgevoerd door een gekwalificeerde elektricien volgens de geldende voorschriften.
Dit apparaat moet worden gemonteerd in een elektrische behuizing om het te beschermen tegen contact, water en stof.
Dit apparaat mag niet worden gebruikt als onderdeel van veiligheidskritische systemen.
---
Documenten↑
---