De logger schrijft gebeurtenissen naar een logbestand.
Loggegevens worden standaard opgeslagen op de SD-kaart van de Miniserver, maar kunnen ook worden overgebracht naar een syslog- of UDP-server.
Er kan een willekeurig aantal logbestanden worden aangemaakt.
Inhoudsopgave
---
Eigenschappen↑
| Korte beschrijving | Beschrijving | Standaardwaarde |
| --- | --- | --- |
| Logger adres | Logger adres (leeg=Standaard logbestand, /log/def.log, /dev/syslog/192.168.1.1, /dev/udp/192.168.1.1/1234) | - |
---
Programmatie voorbeeld↑
Eerst wordt een nieuwe logger aangemaakt onder Meldingen: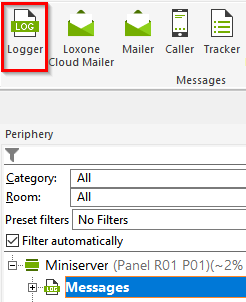 In het volgende voorbeeld geven we de logger de naam "Access House" en slepen we het object naar de programmeerpagina.
In het eigenschappenvenster kan een tekst worden gedefinieerd voor de twee toestanden van digitale waarden of bij analoge waardeveranderingen, of kunnen waarden van analoge of tekstuitgangen naar het logbestand worden geschreven met <v>.
In het loggeradres geven we het logbestand op waarnaar geschreven moet worden. In ons voorbeeld wordt een apart logbestand met de naam "Access" gegenereerd.
Als dit veld leeg wordt gelaten, wordt het geschreven naar het standaard logboek def.log.
In het volgende voorbeeld wordt de tekst van de uitvoer "Ula" naar het logbestand geschreven.
De gegevens worden opgeslagen op de SD-kaart en kunnen worden opgehaald bij de Miniserver via de FTP (ftp://User:Password@IPMiniserver/log/) of via het webservice commando [IPMiniserver]/dev/fsget/log/LogfileName.log.


---
Logger, mailer, beller, tracker toewijzen in het eigenschappenvenster↑
Als alternatief kan in het eigenschappenvenster van verschillende blokken, logger, mailer, caller en tracker worden toegewezen.
Hiervoor moet alleen het respectieve bericht worden aangemaakt en de ontvanger gedefinieerd.
De in de functiebouwsteen gedefinieerde tekst of waarde wordt uitgevoerd.