De LED Spot RGBW Tree is een LED inbouwspot met warm wit licht en gekleurd licht, gevoed met 24VDC. De verbinding met de Miniserver wordt gemaakt via de Loxone Tree technologie.
Datasheet LED Spot RGBW Tree Gen. 1
Inhoudsopgave
---
Montage↑
Schakel de voedingsspanning voor de installatie uit.
Sluit de voeding (oranje/witte draad) en de Tree bekabeling (groen/groen-witte draad) aan.
Vouw de bevestigingsveren terug en laat de spot in de montageopening klikken. Zorg ervoor dat er geen kabels vastzitten.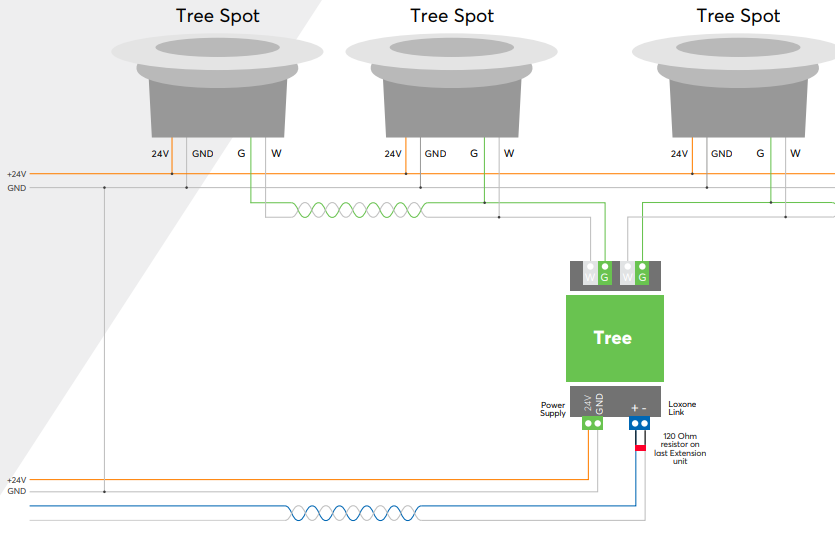 ---
Inbedrijfname↑
---
Tree Communication en spanningsval↑
Als de stroom op de GND-lijn resulteert in een te hoge spanningsval, beïnvloedt dit potentiaalverschil ook de Tree communicatie.
Om dit probleem op te lossen, verdeelt u verbruikers van een hoger vermogen over langere afstanden over meerdere voedingslijnen, of gebruikt u een voedingslijn met een grotere doorsnede, of een voeding dicht bij de verbruikers.
Voor bestaande installaties is een verdubbeling van de doorsnede van de GND-lijn vaak voldoende om het potentiaalverschil op te heffen.
---
Actoren↑
| Korte beschrijving | Beschrijving | Waardebereik |
| --- | --- | --- |
| Smart actor RGBW | Smart actor | ∞ |
---
Diagnose ingangen↑
| Korte beschrijving | Eenheid | Waardebereik |
| --- | --- | --- |
| Online status LED Spot RGBW Tree Gen 1 | Digitaal | 0/1 |
---
Eigenschappen↑
Korte beschrijving
Beschrijving
Standaardwaarde
Onlinestatus bewaken
Indien aangevinkt dan wordt je via de systeem status op de hoogte gesteld via de Loxone App of Mailer, als het apparaat niet langer beschikbaar of offline is.
-
Serienummer
Specificeert het serienummer van het apparaat.
Voor extensies: Voer 'Auto' in om automatisch een Extensie met onbekend serienummer te koppelen.
Dit kan alleen worden gebruikt als er slechts één Extensie van hetzelfde type is.
Sla op in de Miniserver, om de Extension te koppelen.
Daarna moet het programma worden geladen vanuit de Miniserver om het werkelijke serienummer van de Extension in het programma over te brengen.
-
Apparaattype
Tree apparaat type
-
Actor typen
Apparaat met standaard actor(en) of Smart actor(en) gebruiken
Smart actoren ondersteunen dynamische Fading-tijden en werken enkel met de lichtsturing bouwsteen.
-
---
Veiligheidsinstructies↑
De installatie moet worden uitgevoerd door een gekwalificeerde elektricien in overeenstemming met de geldende voorschriften.
Zorg ervoor dat het apparaat wordt beschermd tegen water.
Het apparaat mag niet worden gebruikt voor veiligheidskritische toepassingen.
---
Documenten↑
Datasheet LED Spot RGBW Tree Gen. 1
---