De LED Plafondlamp RGBW Air is een plafondlamp op netspanning met warm wit licht en gekleurd licht. Een bewegingsmelder en een helderheidssensor zijn in het licht geïntegreerd. De verbinding met de Miniserver verloopt via de Loxone Air draadloze technologie.
Datasheet LED Plafondlamp RGBW Air
Inhoudsopgave
---
Montage↑
Schakel de voedingsspanning voor de installatie uit.
Monteer de bodemplaat aan het plafond. De lamp houdt met 3 magneten aan de bodemplaat vast.
Sluit de netspanningsleidingen (L, N, PE) aan.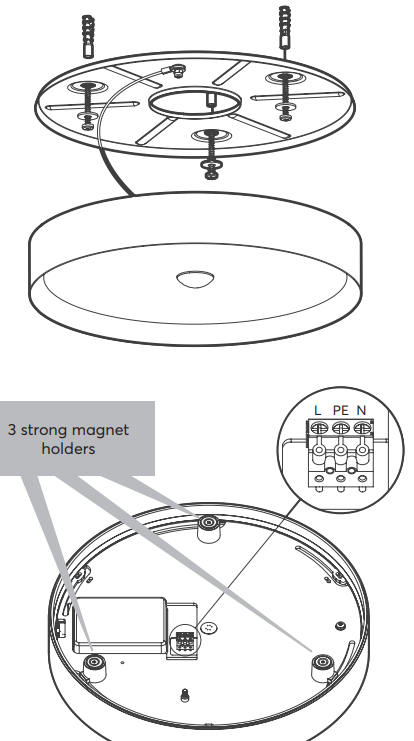 Plaats vervolgens de lamp op de bodemplaat. Zorg ervoor dat de magneten goed zitten en dat er geen draden vastzitten.
De extra veiligheidskabel is een veiligheidsvoorziening en mag niet worden verwijderd!
---
Inbedrijfname↑
De leermodus is actief in de afleveringstoestand nadat de stroomvoorziening tot stand is gebracht. Dit wordt aangegeven door het rood/groen/oranje wisselend licht van de status-LED.
Als u de leermodus handmatig wilt activeren, schakelt u eerst de stroomtoevoer gedurende 10 seconden uit en vervolgens weer in. Als gedurende twee minuten geen verbinding met een Miniserver tot stand kan worden gebracht, wordt de leermodus gedurende 30 minuten geactiveerd.
---
Sensoren↑
| Korte beschrijving | Beschrijving | Eenheid | Waardebereik |
| --- | --- | --- | --- |
| Beweging | Ingang is actief wanneer beweging wordt gedetecteerd | - | 0/1 |
| Helderheid | Geeft de gemeten waarde van de huidige helderheid | Lx | ∞ |
---
Actoren↑
| Korte beschrijving | Beschrijving | Waardebereik |
| --- | --- | --- |
| Smart actor | De minimale fading time is 1s. | ∞ |
---
Diagnose ingangen↑
| Korte beschrijving | Eenheid | Waardebereik |
| --- | --- | --- |
| Online status LED plafondlamp RGBW Air | Digitaal | 0/1 |
---
Eigenschappen↑
Korte beschrijving
Beschrijving
Standaardwaarde
Onlinestatus bewaken
Indien aangevinkt dan wordt je via de systeem status op de hoogte gesteld via de Loxone App of Mailer, als het apparaat niet langer beschikbaar of offline is.
-
Serienummer
Serial number of Air device
-
Apparaattype
Air apparaat type
-
Actor typen
Apparaat met standaard actor(en) of Smart actor(en) gebruiken
Smart actoren ondersteunen dynamische Fading-tijden en werken enkel met de lichtsturing bouwsteen.
-
Naloop tijd beweging
De ingang 'beweging (Mo)' blijft actief na de laatst gedetecteerde beweging of de ingestelde nalooptijd. Hoe hoger de ingestelde nalooptijd, hoe energiezuiniger het apparaat wordt bediend.
Als de bewegingsmelder wordt gebruikt op een alarmsysteem, wordt de nalooptijd automatisch ingesteld op 3s zodra deze is ingeschakeld en deze zich bij de Miniserver meldt.
-
Gevoeligheid
Is van invloed op de gevoeligheid en daarmee op het bereik van de bewegingserkenning
-
---
Veiligheidsinstructies↑
De installatie moet worden uitgevoerd door een gekwalificeerde elektricien in overeenstemming met de geldende voorschriften.
Zorg ervoor dat het apparaat wordt beschermd tegen water.
Het apparaat mag niet worden gebruikt voor veiligheidskritische toepassingen.
---
Documenten↑
Datasheet LED Plafondlamp RGBW Air
---