De functiebouwsteen Pulse bij levert een puls met instelbare duur.
Naast een specifieke tijd of datum kunnen in de bouwsteen ook tijdstippen zoals zonsopgang, schemering, of ook uurpuls, maandpuls, enz. worden geselecteerd.
Via de visualisatie van de bouwsteen kan de ingestelde tijd worden gewijzigd.
Inhoudsopgave
---
Ingangen↑
Contractie
Korte beschrijving
Beschrijving
Waardebereik
Off
Off
Puls: Uitgangen worden gereset / uitgeschakeld.
Aan: Bouwsteen is vergrendeld.
Dominerende ingang.
De naam van de aangesloten sensor wordt gebruikt in de gebruikersinterface.
0/1
---
Uitgangen↑
Contractie
Korte beschrijving
Beschrijving
Waardebereik
O
Output
Activeert de uitgang op het gedefinieerde tijdstip, voor de in parameter (Don) ingestelde duur.
0/1
AC
API Connector
Intelligente API gebaseerde connector.
API Commands
-
---
Parameter↑
Contractie
Korte beschrijving
Beschrijving
Eenheid
Waardebereik
Standaardwaarde
Rem
Remanence input
Remanentie ingang: Indien actief, behoudt de functiebouwsteen zijn vorige toestand na een herstart van de Miniserver.
De toestand van het functiebouwsteen wordt opgeslagen:
- Bij het opslaan in de Miniserver
- Bij een geplande herstart (Miniserver rebooten via Loxone Config is gepland, een spanningsuitval niet
- Voor een back-up
- Eens per uur
- Bij het activeren/deactiveren van een alarmsysteem (max. elke 10s)
De gegevens worden opgeslagen op de SD-kaart.
-
0/1
0
Don
On-duration of output (O)
Inschakelduur van uitgang (O)
s
0...∞
1
---
Eigenschappen↑
Korte beschrijving
Beschrijving
Standaardwaarde
Impuls
Selectie van wanneer de impuls moet worden uitgevoerd.
-
Tijd
Tijd, wanneer de puls wordt gegeven
Ingave formaat hh:mm:ss
-
Eenmalige impuls
Eenmalige puls op een specifieke datum
Alleen beschikbaar voor bepaalde tijdfuncties (b.v. puls zonsondergang).
Indien niet aangevinkt, wordt de puls elke dag uitgevoerd of telkens wanneer de geselecteerde tijdfunctie wordt geactiveerd.
-
---
Basisprogrammering↑
Na het invoegen van de bouwsteen kan in de eigenschappen ervan een tijdfunctie worden geselecteerd.
Indien een tijd wordt geselecteerd, wordt deze in het formaat uu:mm:ss ingevoerd.
De impuls wordt dan dagelijks uitgevoerd, alsook wanneer tijdfuncties zoals zonsopgang worden geselecteerd.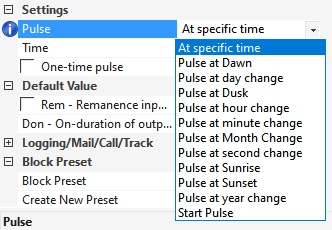 Tijdfuncties, die door hun aard een ander interval dan het dagelijkse beschrijven, leveren de impuls in elk geval in het interval waaraan zij hun naam ontlenen.
Indien de optie eenmalige puls is geselecteerd, moet ook een datum worden ingesteld. De puls wordt dan slechts eenmaal uitgevoerd op de dag van de geselecteerde datum.
Deze optie is niet voor alle tijdfuncties beschikbaar.
In het volgende voorbeeld wordt het functiebouwsteen gebruikt om een dagelijkse puls naar het blok Automatische zonwering te sturen om de zonwering 's morgens te openen: