Meldingen kunnen in Loxone Config worden gebruikt voor een groot aantal toepassingen. Wanneer ze worden verzonden, worden ze weergegeven in de Loxone App en de webinterface.
U kunt aangeven wanneer een melding moet worden verzonden en welke tekst moet worden weergegeven.
Op mobiele apparaten met Android of iOS worden meldingen ook buiten de Loxone-app om als zogenaamde pushmeldingen weergegeven.
Hiervoor is bovendien een registratie van de Miniserver en een internetverbinding nodig. Er kunnen tot 200 pushmeldingen per dag worden verzonden.
| | |
| --- | --- |
| | Push-notificaties werken niet op nieuwe Huawei smartphones / tablets, omdat deze afhankelijk zijn van Google Services op Android, die niet langer zijn inbegrepen op Huawei apparaten als gevolg van het Amerikaanse embargo. |
Inhoudsopgave
---
Voorbeeld programmering↑
Eerst wordt een nieuwe melding aangemaakt onder Meldingen: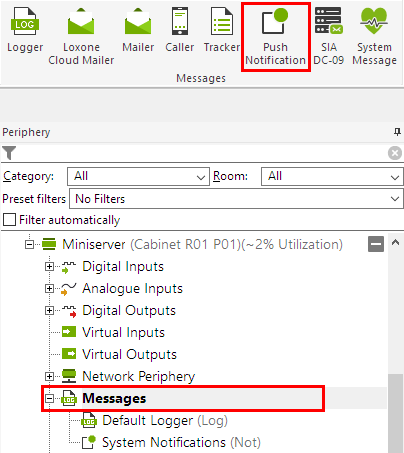 In het volgende voorbeeld noemen we de melding Garage, en slepen we het object naar de programmeerpagina.
We kunnen nu deze uitgang connector verbinden met de uitgang Op van het Garage/Poort functiebouwsteen.
Vervolgens definiëren we de tekst in de instellingen van de uitgang connector, die zal worden verzonden wanneer de ingangswaarde 1 is.
We kunnen selecteren welke gebruikers of groepen de melding ontvangen door de juiste rechten in te stellen.
In dit voorbeeld zullen de geselecteerde gebruikers elke keer dat de poort wordt geopend een melding ontvangen:

---
Weergave van de mededeling↑
Bij activering wordt de melding weergegeven in de App en Webinterface: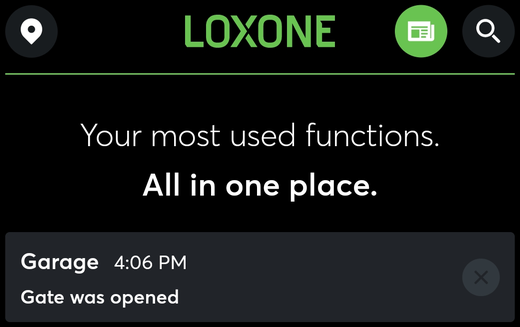 De melding wordt buiten de App weergegeven als een push melding, in het volgende voorbeeld op Android: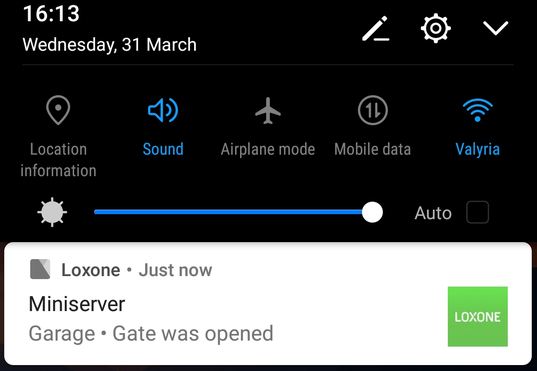 Wanneer de app voor de eerste keer verbinding maakt met de Miniserver, wordt de gebruiker gevraagd pushmeldingen in te schakelen.
Daarna kan het ontvangen van meldingen in de instellingen van de app worden in- of uitgeschakeld.
---
Pushmeldingen: Geregistreerde apparaten↑
Onder "Pushmeldingen: Geregistreerde apparaten" worden alle apparaten met pushmeldingen die zijn ingeschakeld in de app weergegeven met de bijbehorende gebruiker.
Apparaten die niet meer bestaan, kunnen worden verwijderd met de knop "Apparaat afmelden":