Met Bedrijfsmodi kunnen functies worden gestart afhankelijk van de datum of bij specifieke gelegenheden. Zo kunnen bijvoorbeeld de verwarmingstijden in de winter of tijdens afwezigheid worden aangepast.
De automatische configuratie gebruikt de vooraf gedefinieerde bedrijfsmodi en koppelt deze dienovereenkomstig.
Inhoudsopgave
---
Programmatie voorbeeld↑
Er zijn al vooraf gedefinieerde bedrijfsmodi in de randapparatuur:
Activeren van bedrijfsmodi via uitgang
Om een bedrijfsmodus als digitale uitgang te gebruiken, selecteert u de modus in de periferieboom, klikt u op "Uitgangsreferentie invoegen" in de menubalk en verbindt u deze met de gewenste logica:
In dit voorbeeld activeren wij de bedrijfsmodus "Woning verlaten" via een schakelaar:

Bedrijfsmodi activeren via de bedrijfstijd
Wij wijzen de bedrijfsmodus "Vakantie" toe aan de aangemaakte bedrijfsperiode "Wintervakantie". Op de ingestelde datum wordt de gekoppelde bedrijfsmodus dan actief:

Voor landspecifieke feestdagen zijn de bedrijfsmodi al opgeslagen.

Gebruik van bedrijfsmodi bij de programmering
Als een bedrijfsmodus als digitale ingang wordt gebruikt, kan de modus vanuit de periferieboom naar de programmeerpagina worden gesleept en aangesloten.
Hierdoor kan een bedrijfsmodus bepaalde acties activeren wanneer deze actief is.

---
Bedrijfsmodus creëren↑
Met "Bedrijfsmodus" kan een door de gebruiker gedefinieerde bedrijfsmodus worden gecreëerd: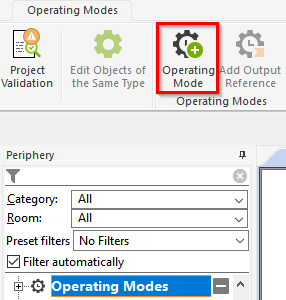 Deze bedrijfsmodus kan dan opnieuw worden geactiveerd via een logica of een bedrijfstijd of controleacties via een digitale ingang.