De AO Extension biedt 4 analoge 0-10V uitgangen.
Inhoudsopgave
---
Inbedrijfname↑
De AO Extension wordt geïnstalleerd in een geschikte verdeler op een DIN-rail.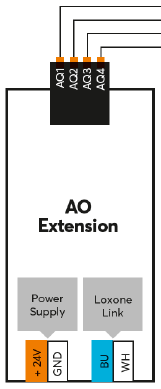 Sluit de voeding en de Link datalijnen aan op de Miniserver.
De analoge uitgangen worden gebruikt om apparaten aan te sluiten die worden aangestuurd met een 0-10V standaard signaal. Bijvoorbeeld 0-10V Stelventielen.
Als er verschillende stroomvoorzieningen of voedingen van de betrokken apparaten zijn, is het verplicht om de GND aan te sluiten.
Na het inschakelen van de stroomvoorziening start de Extension, de status-LED knippert na korte tijd oranje als de verbinding met de Miniserver correct is.
---
Actoren↑
| Korte beschrijving | Waardebereik |
| --- | --- |
| Voltage 1 | ∞ |
| Voltage 2 | ∞ |
| Voltage 3 | ∞ |
| Voltage 4 | ∞ |
---
Diagnose ingangen↑
| Korte beschrijving | Eenheid | Waardebereik |
| --- | --- | --- |
| Online status AO Extension | Digitaal | 0/1 |
---
Eigenschappen↑
Korte beschrijving
Beschrijving
Standaardwaarde
Serienummer
Specificeert het serienummer van het apparaat.
Voor extensies: Voer 'Auto' in om automatisch een Extensie met onbekend serienummer te koppelen.
Dit kan alleen worden gebruikt als er slechts één Extensie van hetzelfde type is.
Sla op in de Miniserver, om de Extension te koppelen.
Daarna moet het programma worden geladen vanuit de Miniserver om het werkelijke serienummer van de Extension in het programma over te brengen.
-
Onlinestatus bewaken
Indien aangevinkt dan wordt je via de systeem status op de hoogte gesteld via de Loxone App of Mailer, als het apparaat niet langer beschikbaar of offline is.
-
---
Veiligheidsinstructies↑
De installatie moet worden uitgevoerd door een gekwalificeerde elektricien volgens de geldende voorschriften.
Dit apparaat moet worden gemonteerd op een DIN-rail in een elektrische verdeelkast om bescherming tegen contact met water en stof te waarborgen.
Dit apparaat mag niet worden gebruikt als onderdeel van veiligheidskritische systemen.
---
Documenten↑
---