The Loxone Miniserver serves as central control unit for all kinds of automation tasks.
The replaceable microSD card contains the operating system as well as the user programming and settings. The LAN interface is used for programming and the integrated web server allows the control of the system via a web interface or the Loxone App.
It features 8 potential free relays, 8 digital inputs and 4 analogue inputs (0-10V). Up to 30 Extensions can be added to the Miniserver via the Link interface to add additional functions such as inputs, outputs or interfaces.
A Loxone Tree interface is also integrated to connect sensors and actuators throughout the building.
Inhaltsverzeichnis
---
Inbetriebnahme↑
The Miniserver is installed on a DIN rail in a suitable enclosure.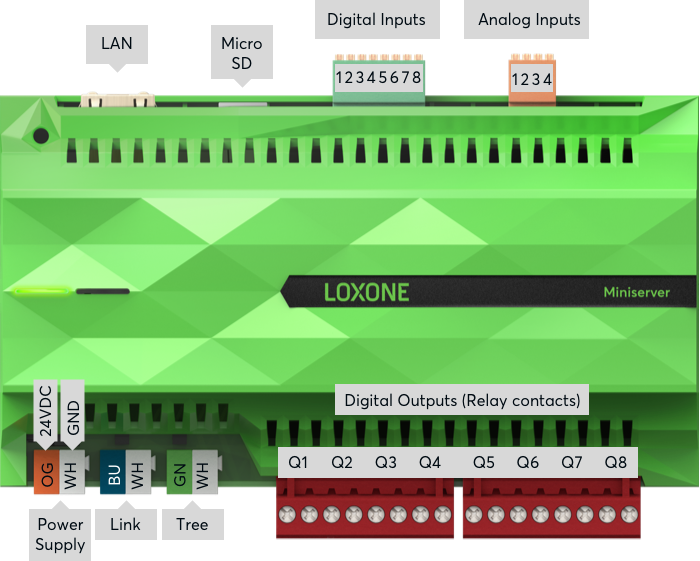 Connect the power supply, as well as inputs/outputs and interfaces, if applicable.
Via the LAN port the Miniserver is connected to the local network or a WiFi router.
Information on connecting additional devices.
The Miniserver starts after the power supply is turned on, and will be operational within a few seconds.
Once the boot up process is complete, the left status LED will blink green once every second.
The right LED indicates whether any System Status messages are available.
At first startup with factory settings, the Miniserver is assigned an IP address by the router via DHCP.
If there is no DHCP server in your network, or if the Miniserver is connected directly to a PC, link-local addressing via Zeroconf is supported.
If both Miniserver and computer are set to DHCP, they will use a 169.254.x.x link-local address.
Alternatively, you can manually assign a static IP address to the Miniserver and computer to enable a direct connection.
You can then search for the Miniserver in Loxone Config and connect. The factory settings for user and password are: admin/admin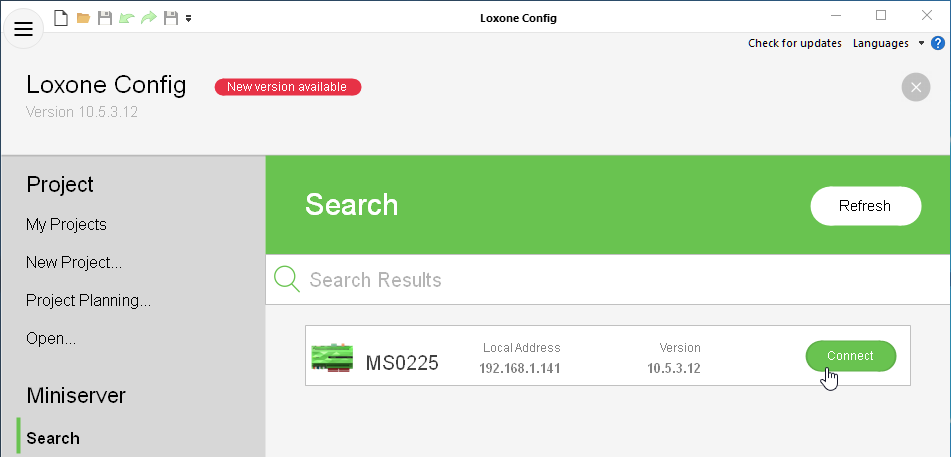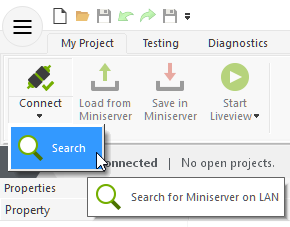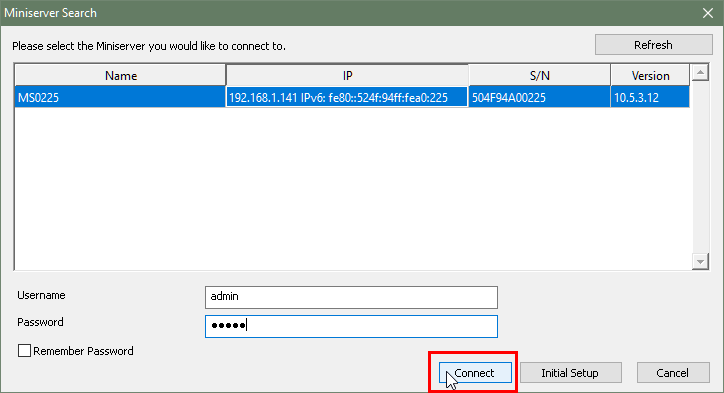 Then follow the instructions for the Initial Setup to create your new project with the Miniserver.
---
Connecting Extensions↑
Up to 30 extensions can be connected to the Miniserver according to the following diagram: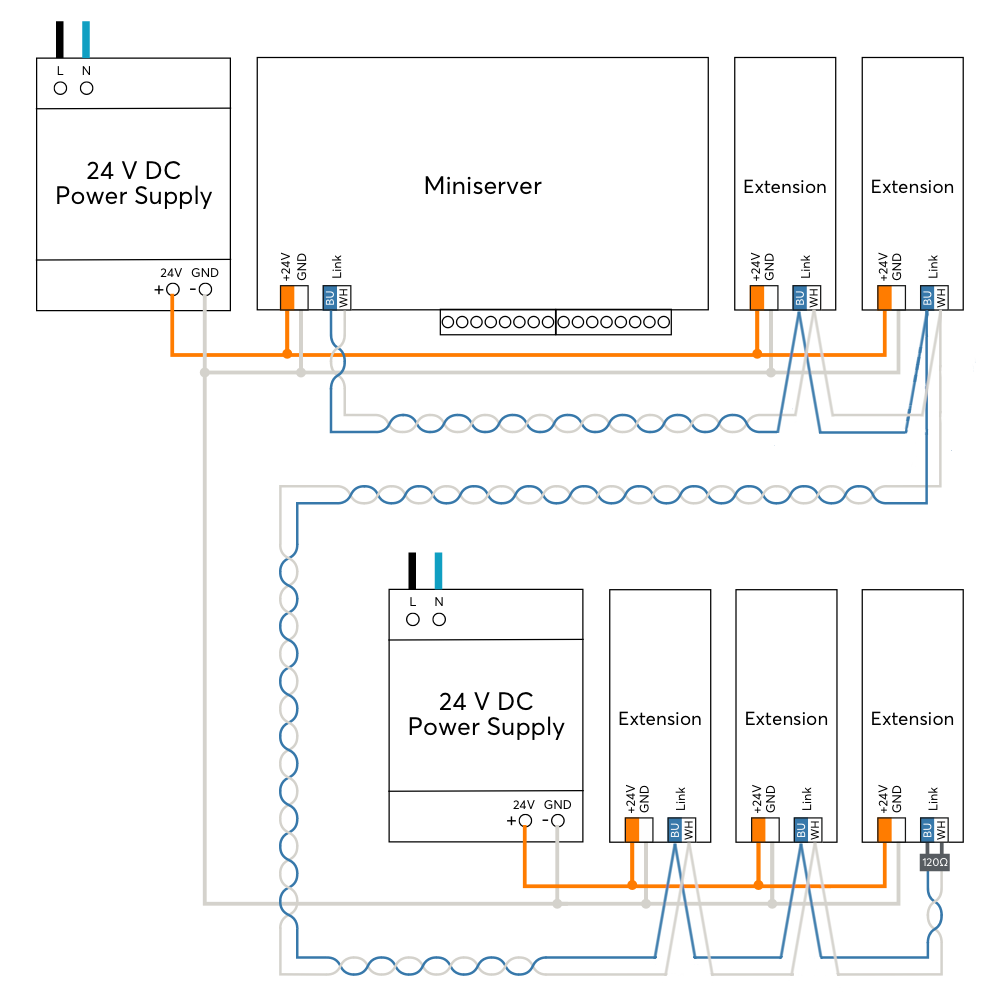 Connect the Extensions to the Miniserver by daisy-chaining the Link interfaces. If any of the Extensions are connected to a separate power supply, then all power supply's GND (negative) must to be interconnected. This connection is crucial for reliable data transmission.
One twisted pair of a CAT5/6/7 cable can be used to wire the Link throughout a building. This allows a maximum length of up to 500m/1640ft. We recommend using the blue/white pair.
The Link interface is terminated at the last Extension using the 120 Ohm resistor that is included with the Miniserver.
---
Pairing Extensions↑
To add Extensions, first click on the Miniserver in Loxone Config, and then on Extension Search.
Link Search will now list all Extensions that are connected to the Miniserver. Select the desired Extension and add it to the programming using the + button. Use the button "Create all devices" to simply add all Extensions that were found.
When highlighting one of the Extensions, its status LED will start flashing. This allows you to easily identify the devices.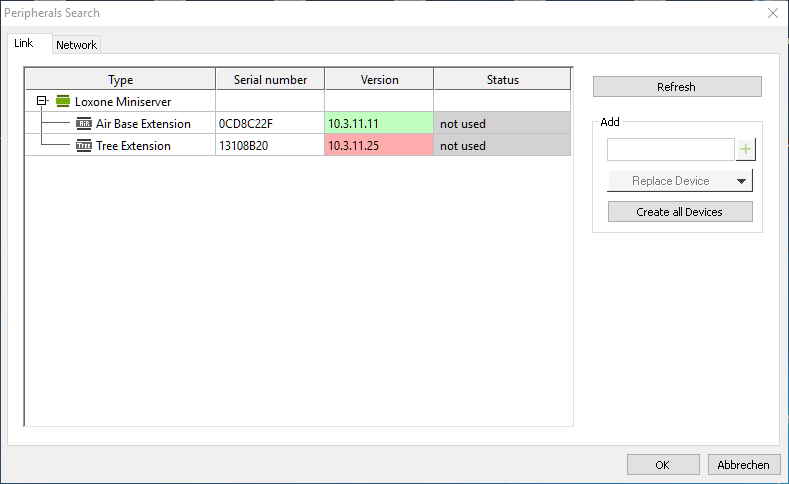 With Replace device you can replace an existing Extension with another Extension of the same type. This is useful when a device needs to be replaced or Extensions are added to a pre-configured program. Alternatively, you can change the serial number in the properties of an Extension that is already part of the program.
To apply the changes, save the program in the Miniserver.
Now the added Extensions are ready for use and the functions are available for programming in the Periphery Tree in Loxone Config.
---
Update and diagnostics of Extensions↑
If an Update is necessary for Extensions, they are highlighted orange in Device Status. This often happens after a recent update of the Miniserver or when adding Extensions with an older firmware version.
The Miniserver automatically updates the Extensions in the background, the Extensions generally remain operational. However, there can be delays in communication. In rare cases, some functions of Extensions may not be available until the update is completed.
The following options are available for Diagnostics:
1. The Status LED of an Extension allows for quick error checks.
Red flashing: No connection to Miniserver, check wiring and Miniserver.
Orange flashing: Connection to Miniserver ok, but Extension not yet added to the program.
Green flashing: Everything okay, Extension is online.
Orange/Red flashing: Transmitting update.
Quick red/green flashing: Extension was selected in Loxone Config and is identifying.
Not flashing: Check power supply.
2. Link Diagnostics provides a more detailed analysis. First connect to the Miniserver, select a device with Link interface, and then click on the button Link Diagnostics.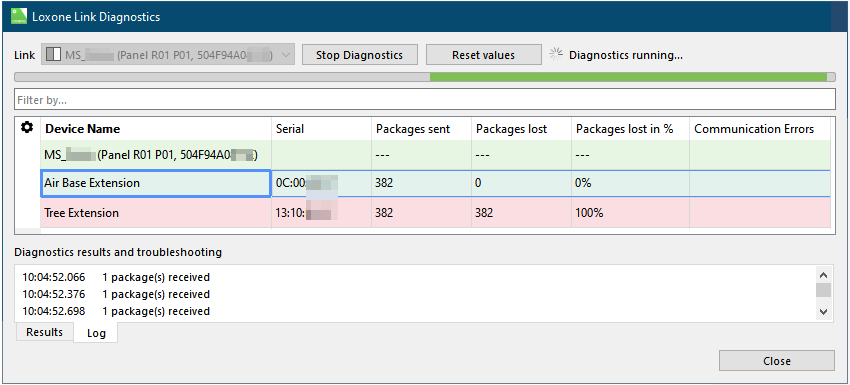 The Extensions are now listed in the Link Diagnostics window. Diagnostic data is transmitted continuously, and can be used to detect any errors. Any errors are displayed accordingly. Please monitor the Link Diagnostics for a while, even temporary errors (e.g. poor contact, potential difference) can be detected by packet loss.
Checklist to troubleshoot the Link interface
---
Additional information↑
Restore factory defaults and format SD card
Connecting several Miniservers via Tree Intercommunication
Connecting multiple Miniservers via Gateway-Client function
---
Sensoren↑
| Kurzbeschreibung | Einheit | Wertebereich |
| --- | --- | --- |
| Input 1 | Digital | - |
| Input 2 | Digital | - |
| Input 3 | Digital | - |
| Input 4 | Digital | - |
| Input 5 | Digital | - |
| Input 6 | Digital | - |
| Input 7 | Digital | - |
| Input 8 | Digital | - |
| Voltage 1 | - | ∞ |
| Voltage 2 | - | ∞ |
| Voltage 3 | - | ∞ |
| Voltage 4 | - | ∞ |
---
Aktoren↑
| Kurzbeschreibung | Einheit |
| --- | --- |
| Actuator (Relay) 1 | Digital |
| Actuator (Relay) 2 | Digital |
| Actuator (Relay) 3 | Digital |
| Actuator (Relay) 4 | Digital |
| Actuator (Relay) 5 | Digital |
| Actuator (Relay) 6 | Digital |
| Actuator (Relay) 7 | Digital |
| Actuator (Relay) 8 | Digital |
---
Diagnose-Eingänge↑
| Kurzbeschreibung | Beschreibung | Einheit |
| --- | --- | --- |
| Rechenleistungs-Drosselung | | Digital |
| Temperature Shutdown | If the CPU temperature reaches a critical point, the outputs of the device are switched off. This can be due to short-circuits, overloaded switching loads or too high an ambient temperature. | Digital |
---
Eigenschaften↑
Kurzbeschreibung
Beschreibung
Standardwert
Seriennummer
Gibt die Seriennummer des Geräts an.
Für Extensions: 'Auto' darf nur verwendet werden, wenn nur eine Extension dieses Typs vorhanden ist.
-
Interne Adresse
Geben Sie hier die Adresse an, mit der der Miniserver über das lokale Netzwerk erreichbar ist (Hostname oder IP).
-
Externe Adresse
Geben Sie hier die Adresse an, mit der der Miniserver über das Internet erreichbar ist (Hostname oder IP).
Wenn sie den DNS cloud Dienst von Loxone abonniert haben, dann geben Sie hier
dns.loxonecloud.com ein. Optional dns.loxonecloud.com:port
Verwendet der Minisererver nicht den Standard-Port muss dieser angegeben werden
-
Externer Port HTTP
Der externe Port, den Sie in den Portforwarding Einstellungen Ihres Routers für den HTTP Port des Miniservers angegeben haben
-
Externer Port HTTPS
Der externe Port, den Sie in den Portforwarding Einstellungen Ihres Routers für den HTTPS Port des Miniservers angegeben haben
-
Miniserver Konfiguration
Bearbeiten Sie Einstellungen des Miniservers. Hierzu muss eine Verbindung zum Miniserver bestehen.
-
---
Sicherheitshinweise↑
The installation must be carried out by a qualified technician in accordance with all applicable regulations.
The installation requires a suitable enclosure to ensure protection against contact, water and dust.
The device must not be used as part of safety-critical systems.
---
Dokumente↑
---