De Loxone Tree Turbo Interface maakt het mogelijk Tree Turbo-apparaten aan te sluiten, en wordt geleverd door de Audioserver of Miniserver Compact.
Inhoudsopgave
---
Tree Turbo-apparaten aansluiten↑
Er kunnen maximaal 10 Tree Turbo-apparaten worden aangesloten op de Tree Turbo-interface van een Audioserver of Miniserver Compact.
De volgende bedradingstopologieën zijn mogelijk, bij een maximale lengte van 150m/492ft:

De Loxone Tree kabel kan worden gebruikt voor de bedrading. Gebruik het groen/witte aderpaar voor Tree Turbo, en het oranje/witte aderpaar van 1,5 mm² (AWG16) voor de stroomvoorziening.
Voor langere leidingen of meerdere Tree Turbo apparaten met een hoog stroomverbruik, installeert u ofwel een voeding dichter bij hen, of gebruikt u meerdere voedingsleidingen. Er kan ook een aparte voedingsleiding met een grotere doorsnede worden gebruikt.
Indien afzonderlijke voedingen worden gebruikt, is het niet noodzakelijk alle GND's aan te sluiten.
| | |
| --- | --- |
| | De Tree Turbo interface is gebaseerd op een totaal andere technologie dan de bekende Tree interface. Daarom mogen de Tree en de Tree Turbo interface niet met elkaar worden verbonden! De datalijnen van de Tree Turbo mogen niet samen met andere data- of signaallijnen in dezelfde kabel lopen. |
De Tree Turbo communicatie is IP gebaseerd, daarom zullen IP adressen voor alle Tree Turbo apparaten op het netwerk verschijnen.
Als Audioserver of Miniserver Compact zich in een 10.10.10.x netwerk bevinden, dan moeten zij op DHCP worden ingesteld en altijd hetzelfde adres krijgen toegewezen door de router, aangezien de aangesloten Tree Turbo-apparaten ook in dit adresbereik communiceren, anders kunnen er IP-adresconflicten ontstaan.
Tree Turbo-apparaten zullen na het inschakelen van de stroomvoorziening hun besturingssysteem opstarten via de Tree Turbo-interface. De Audioserver of Miniserver Compact moeten dus ook bedrijfsklaar zijn. Na ongeveer een minuut is het Tree Turbo-apparaat gereed en zal het oranje gaan knipperen.
U kunt nu verder gaan met het koppelen van de Tree Turbo apparaten.
---
Koppelen van Tree Turbo apparaten↑
Om Tree Turbo-apparaten toe te voegen, klikt u eerst op een Tree Turbo-interface in Loxone Config, en vervolgens op Tree Turbo zoeken.
Het venster dat opent zal een lijst bevatten van alle aangesloten Tree Turbo apparaten die nog geen deel uitmaken van het programma: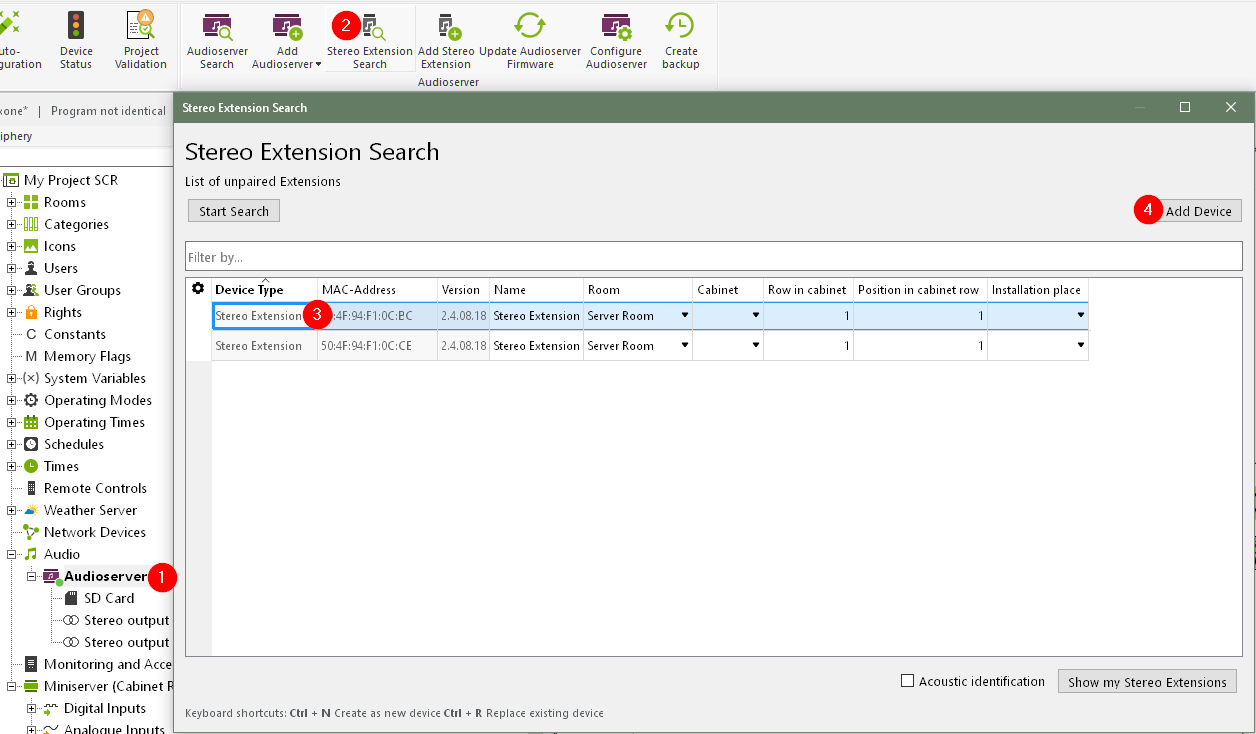 Wanneer u een van de apparaten markeert, zal het zich identificeren door zijn status-LED te laten knipperen of door een geluidssignaal via de luidsprekers. Zo kunt u de toestellen gemakkelijk identificeren en benoemen.
Selecteer het gewenste apparaat, wijs een naam, ruimte en installatielocatie toe en voeg het toe aan de programmering met Koppel apparaat of de + toets.
Het rechter venster toont alle apparaten die momenteel deel uitmaken van het programma. Je kunt ze weergeven door op de knop Toon mijn apparaten te klikken. je kunt ook een bestaand apparaat vervangen door een nieuw apparaat van hetzelfde type dat bij het zoeken werd gevonden. Dit is handig wanneer een apparaat moet worden vervangen of wanneer apparaten worden toegevoegd aan een vooraf geconfigureerd programma. Selecteer het apparaat dat moet worden toegevoegd en het apparaat dat moet worden vervangen. Door op de knop met de pijl naar rechts te klikken, wordt het oude apparaat in het programma vervangen door het nieuwe.
Om de aanpassingen toe te passen, sla het programma op in de Miniserver.
De toegevoegde apparaten zijn nu klaar voor gebruik en beschikbaar in de Tree Turbo interface bij de corresponderende randapparatuur.
---