The Loxone Presence Sensor Tree is used to detect presence, motion and brightness in a room. In addition to the passive infrared sensor, it also has an acoustic presence detection.
The Presence Sensor is also available as a flush-mounted in-ceiling version, matching the design of our LED spots. The functions of both Presence Sensor versions are identical.
| | |
| --- | --- |
| | El detector de presencia también puede reconocer algunas mascotas. Con la sensibilidad regulable, la sensibilidad del sensor se puede reducir, pero no hay ningún sistema especial de sensor que excluya las mascotas. |
Ficha técnica detector de presencia Tree
Datasheet Flush-mounted Presence Sensor Tree
Contenido
---
Montaje↑
Switch off the supply voltage before installation.
Presence Sensor Tree: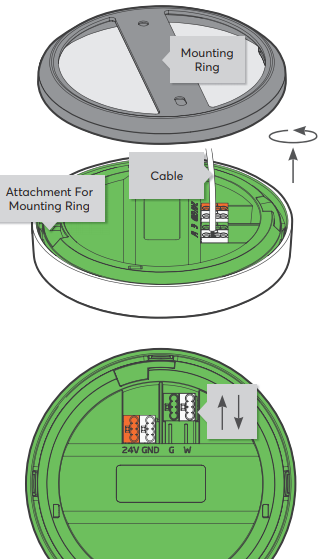 Connect the power supply (orange/white terminal) and Tree communication wires (green/white terminals).
Then attach the Presence Sensor to the mounting ring.
Flush-mounted Presence Sensor Tree: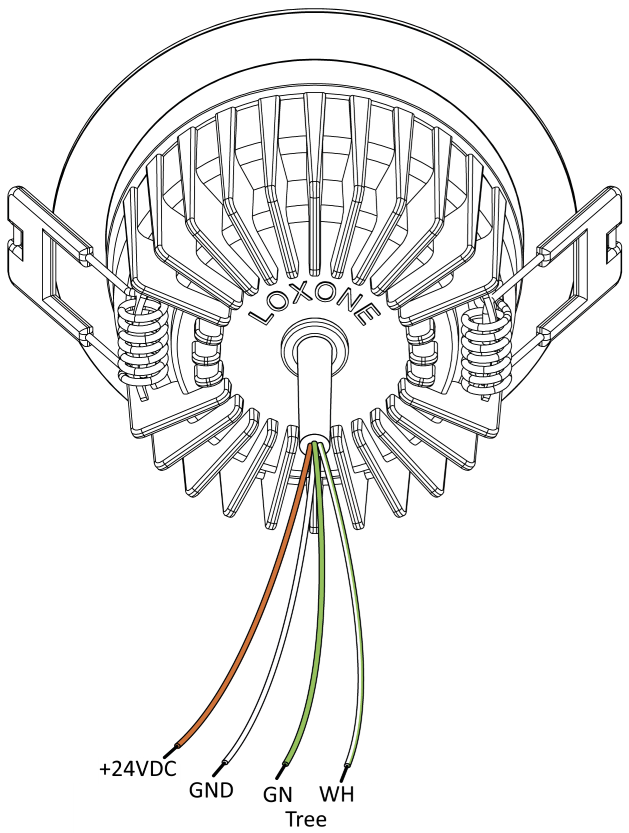 Connect the power supply (orange/white wire) and Tree communication wires (green/white wire).
Flip the spring clips back and snap the device into the mounting hole. Make sure that no wires are jammed.
| | |
| --- | --- |
| | For motion to be detected accurately, correct placement of the Motion Sensor on the ceiling is essential. The following drawings can assist with this: |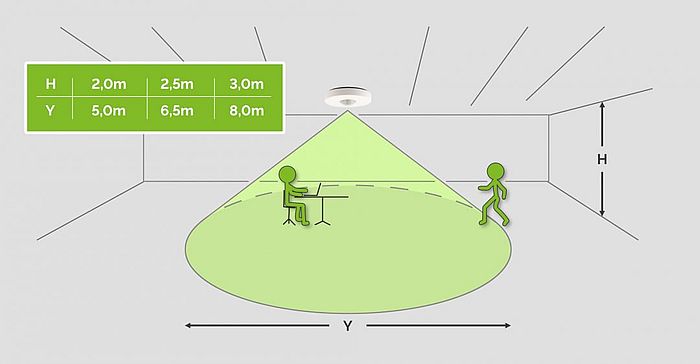 ---
Modo puesta en marcha↑
Shortly after power-up, the status LED will blink orange if the wiring is correct (connection to Tree Extension and Miniserver is established).
Luego sigue el proceso de aprendizaje
---
Usage and Functionality↑
The presence input of the sensor is used on function blocks with presence input (P). It can also be used for blocks with motion sensor (Mv) inputs, e.g. Lighting Controller. However, the overrun time is then no longer specified in the blocks but via the Presence Sensor. The overrun time (TH) of the blocks is set to 0.1s when using the presence input. As a result, lighting, for example, remains active for as long as the sensor indicates presence.
In a quiet setting, it may happen that no presence is detected although a person is in fact present. For example, if you do not move for a long time when reading and no sounds occur. As a result, the lighting is switched off. Within 10 seconds of the end of presence, it is possible to reactivate the presence input using sound alone. You could shout "Hey", for example, and switch the lighting back on. It is not necessary to move during this time.
---
Set volume threshold↑
From the Presence Sensor's properties you can open a diagram for setting the volume thresholds:
A graph is drawn using the current ambient volume of the selected Presence Sensor. Use the graph to adjust the volume thresholds for presence and sound level alarm to the specific location.
When doing so, also take into account intermittent sounds that could trigger presence or an alarm even when no one is present. For example, dishwashers (extending presence) or high levels of noise from outside such as construction sites, heavy traffic or the like (sound level alarm).
---
Sensores↑
| Resumen | Descripción | Unidad | Rango de valores |
| --- | --- | --- | --- |
| Volumen mínimo | Produce periódicamente el volumen mínimo mediante el valor establecido "Volumen del ciclo de transmisión". | - | 20...2000 |
| Volumen máximo | Produce periódicamente el volumen máximo a través del valor establecido "Volumen del ciclo de transmisión". | - | 20...2000 |
| Brillo | Valor medido del brillo actual | Lx | 0...83000 |
| Moverse | La entrada está activa cuando se detecta movimiento | - | - |
| Presencia | La entrada está activa siempre que se detecte presencia. El movimiento activa la entrada, el volumen y el mantenimiento del movimiento activos. | - | - |
| Alarma de volumen | La entrada proporciona un pulso cuando el volumen supera el umbral de alarma de volumen. 1 pulso por 10s. | - | - |
---
Entradas de diagnóstico↑
| Resumen | Unidad |
| --- | --- |
| Online Sensor de presencia Tree | Digital |
---
Propiedades↑
Resumen
Descripción
Unidad
Rango de valores
Valor por defecto
Monitorizar estado de línea
Si está marcada, se le notificará sobre la falta de disponibilidad (o estado fuera de línea) del dispositivo a través del Estado del sistema o Cloud Mailer.
-
-
-
Número de serie
Muestra el número de serie del dispositivo.
Para las Extensions: 'Auto' sólo puede utilizarse si sólo hay una Extension de ese tipo en el proyecto.
-
-
-
Tipo de dispositivo
Tipo de dispositivo Tree
-
-
-
Umbral de volumen de presencia
Volumen mínimo para detectar presencia.
-
20...2000
75
Alarma de umbral de volumen
Volumen mínimo para activar la alarma.
-
20...2000
150
Umbrales de volumen
Configure los umbrales de volumen usando un gráfico del volumen actual
-
-
-
Tiempo de seguimiento para la presencia
Tiempo de seguimiento para entrada de presencia. Si el detector de presencia se usa en un sistema de alarma, se establece el tiempo de seguimiento más corto.
s
-
300
Tiempo de retardo del sensor de presencia
La entrada 'Movimiento (Mv)' permanece activa durante el tiempo de retraso establecido después del último movimiento detectado. Cuanto mayor sea el tiempo de seguimiento establecido, menos paquetes deben enviarse en el Tree y en el enlace.
Si el detector de movimiento se usa en un sistema de alarma, el tiempo de funcionamiento se establece automáticamente en 3 segundos tan pronto como se activa.
s
-
60
Enviar ciclos de ciclos
Ciclo de transmisión de volumen mínimo y máximo (1-3600 seg, 0 = APAGADO)
s
-
300
Ciclo de transmisión de brillo
El brillo se transmite periódicamente al ciclo de transmisión establecido (0=OFF). Además, el brillo se transmite cuando se detecta presencia o cuando hay un cambio de al menos un 30%. Si un controlador de iluminación sensible utiliza el brillo, se transmite con un cambio del 5%.
s
-
900
Sensibilidad
Afecta a la sensibilidad y, por tanto, la gama de detección de movimiento
-
-
-
---
Instrucciones de seguridad↑
La instalación debe ser realizada por un electricista cualificado según la normativa correspondiente.
Asegúrese de proteger el dispositivo del agua.
El dispositivo no debe utilizarse para aplicaciones críticas a la seguridad.
---
Documentos↑
Ficha técnica Detector de presencia
Datasheet Flush-mounted Presence Sensor Tree
---