AC Control Air para Fujitsu
Loxone AC Control Air es un módulo compacto para integrar unidades de aire acondicionado.
Para ello, debe seleccionarse una variante de producto adecuada para los sistemas de aire acondicionado soportados.
Las distintas variantes varían en la interfaz utilizada, el cable de conexión y el firmware. El AC Control Air asume el control del aire acondicionado en una instalación Loxone en lugar de un mando a distancia convencional.
Por este motivo, los mandos a distancia originales de la unidad de aire acondicionado (también IR) ya no se pueden utilizar.
Ficha técnica del AC Control Air para Fujitsu
Contenido
---
Montaje↑
En primer lugar, apague el aire acondicionado y, a continuación, desconecte la alimentación eléctrica.
Para la instalación, necesita acceder a las conexiones eléctricas de la unidad interior del aire acondicionado. Consulte el manual de instalación o de servicio técnico del aire acondicionado que esté utilizando para determinar cómo retirar las cubiertas y dónde se encuentran los distintos terminales y conectores.
Localice las bornas 1/2/3 para el mando a distancia con cable en la unidad interior Fujitsu. Si hay un mando a distancia conectado, deberá desconectarse y ya no podrá utilizarse.
En algunos modelos Fujitsu existe riesgo de confusión, ya que los terminales para la tensión de red también pueden estar etiquetados como 1/2/3.
¡El AC Control Air no debe no conectarse a la tensión de red, sino sólo a los terminales para el mando a distancia con cable!
Conecte el AC Control Air a los terminales con el cable de conexión adjunto de la siguiente manera: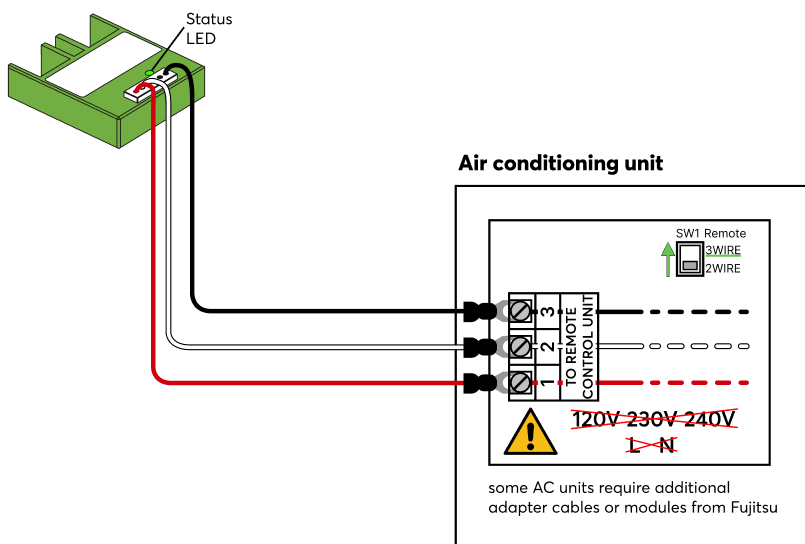 | | |
| --- | --- |
| | Algunos modelos Fujitsu requieren cables adaptadores adicionales o módulos electrónicos para conectar un mando a distancia con cable. Consulte las instrucciones del acondicionador de aire para obtener más detalles. |
| | |
| --- | --- |
| | On some Fujitsu models there is a DIP switch (SW1) on the circuit board. This must be set to "3WIRE" to connect the AC Control Air. Please refer to the instructions of the air conditioner for details. |
Fije el AC Control Air en un lugar adecuado del dispositivo, por ejemplo, con una brida para cables.
Asegúrese de que el dispositivo no pueda entrar en contacto con la tensión de red, componentes calientes, fríos o en movimiento, ni con la humedad.
Para una mejor recepción, el AC Control Air debe colocarse fuera de cubiertas metálicas. El cable de conexión suministrado no debe prolongarse.
Por último, vuelva a colocar las tapas de la carcasa y encienda la red eléctrica y el aire acondicionado.
El AC Control Air recibe ahora tensión del aire acondicionado y puede aprenderse en el siguiente paso.
No olvide retirar o desactivar los mandos a distancia existentes de la unidad de aire acondicionado, ya que no podrán utilizarse.
---
Puesta en marcha↑
En estado de fabrica, el modo de aprendizaje estará activo una vez establecida la alimentación. Esto se indica mediante el parpadeo rojo/verde/naranja del LED de estado.
A continuación, siga el procedimiento de emparejamiento
Para activar el modo de aprendizaje manualmente, desconecta la alimentación durante 10 segundos y, a continuación, vuelva a conectarla. Si no se puede establecer conexión con un Miniserver durante cinco minutos, el modo de emparejamiento se activará durante un tiempo limitado.
---
Programación↑
El Loxone AC Control Air se programa y configura mediante el bloque de funciones AC Control de Loxone Config: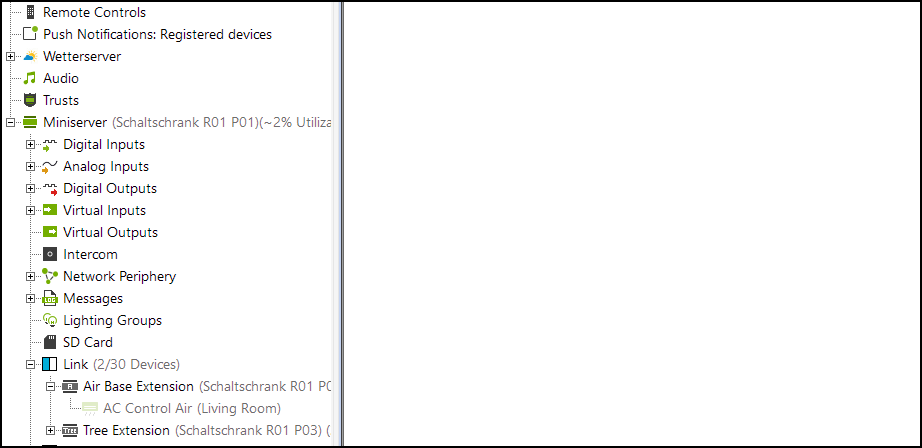 ---
Diagnósticos↑
En caso de que la comunicación con un aire acondicionado no funcione (correctamente), se puede iniciar un análisis de diagnóstico en el menú contextual de un AC Control Air. Esto permite visualizar y registrar los datos de comunicación: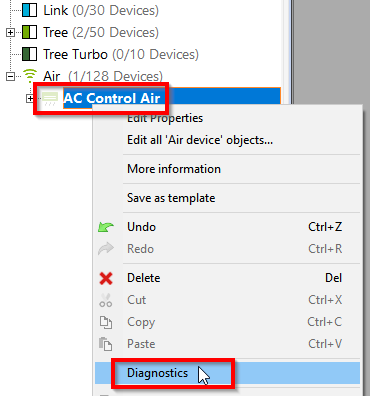 ---
Actuadores↑
Resumen
Descripción
API Connector
Conector inteligente basado en API.
API Commands
---
Entradas de diagnóstico↑
| Resumen | Unidad | Rango de valores |
| --- | --- | --- |
| Estado de conexión AC Control Air | Digital | 0/1 |
---
Propiedades↑
| Resumen | Descripción | Valor por defecto |
| --- | --- | --- |
| Monitorizar | Mediante el Estado del sistema o con el envío de un correo electrónico se notifica que el dispositivo ya no está disponible o está desconectado. | - |
| Número de serie | Número de serie del dispositivo Air | - |
| Tipo de dispositivo | Tipo de dispositivo Air | - |
---
Instrucciones de seguridad↑
La instalación debe ser realizada por un electricista calificado de acuerdo con las normas aplicables.
Este dispositivo no debe utilizarse como parte de sistemas críticos para la seguridad.
---
Documentos↑
Ficha técnica del AC Control Air para Fujitsu
---