The Loxone Wallbox is a charging station which enables dynamic charging from 1.38kW to 11kW for electric vehicles.
With the robust Air interface, the device is integrated into the Loxone system and provides all the freedom for energy management.
To record the electrical energy, an energy meter can be easily mounted on the integrated DIN-rail and connected to the Modbus interface in the device.
Mount products like the NFC Code Touch, Touch Pure Flex,... to set your charging mode or execute any other control.
Datasheet Wallbox 11kW 16A Air
Table of Contents
---
Mounting↑
Fasten the Wallbox vertically as shown by screwing it onto a solid surface. Select screws and fastening material depending on the surface:
The mains supply is then connected: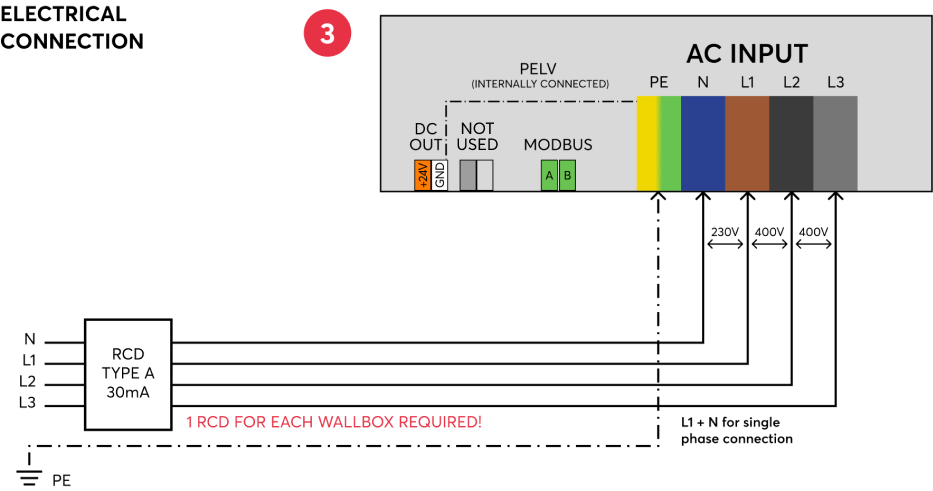 If a plug-on module is used, it can be supplied via the 24V output:
Optionally, an energy meter can be connected and installed:
Then the transparent front panel is put on. If used, the connection wires for the plug-on module must be routed out through the opening on the front. The transparent front panel is fastened with the 6 included screws:
For the optional plug-on module, its mounting frame is first screwed to the front panel, then the module is connected and inserted in the frame:
Finally, the decorative cover is put in place and snapped into place at the edges:
After that, the mains voltage is switched on and the Wallbox is ready for pairing.
---
Commissioning↑
Then follow the pairing procedure
---
Programming↑
The Loxone Wallbox is programmed and set up using the Wallbox function block in Loxone Config:
---
LED Status↑
Status LED
Description

Device is in pairing mode, ready for pairing.

Device has just been paired or has restarted and is now online.
Only displayed once.

Device cannot establish a connection to the Miniserver via the Air wireless interface, or is no longer paired.

Device was selected in Loxone Config and is identifying.

Standby or charging, no incidents.
If the LED never lights up at all, the device has no power supply.

Charging started.
Only displayed for 30 s.

Charging paused.
Only displayed for 30 s.

Charging Error.
---
Actuators↑
| Summary | Unit |
| --- | --- |
| API Connector | Text |
---
Diagnostic Inputs↑
| Summary | Description | Unit | Value Range |
| --- | --- | --- | --- |
| Charging error | Reports a charging error. | - | 0/1 |
| Fault current | Reports a fault current. | - | 0/1 |
| Online Status Wallbox Air | | Digital | 0/1 |
| System temperature | | ° | ∞ |
---
Properties↑
| Summary | Description | Default Value |
| --- | --- | --- |
| Monitor Online Status | When selected, you will be notified via System Status or the Mailer if the device is no longer available or goes offline. | - |
| Serial Number | Serial number of the Air device | - |
| Device type | Air device type | - |
---
Documents↑
Datasheet Wallbox 11kW 16A Air
---