The Loxone Wallbox is a charging station which enables dynamic charging from 1.38kW to 7.4kW for electric vehicles.
With the robust Tree interface, the device is integrated into the Loxone system and provides all the freedom for energy management.
To record the electrical energy, an energy meter can be easily mounted on the integrated DIN-rail and connected to the Modbus interface in the device.
Optionally, products like the NFC Code Touch, Touch Pure Flex,... can be mounted directly on the device to set your charging mode or execute any other control.
Datasheet Wallbox 7.4kW 32A Tree
Table of Contents
---
Mounting↑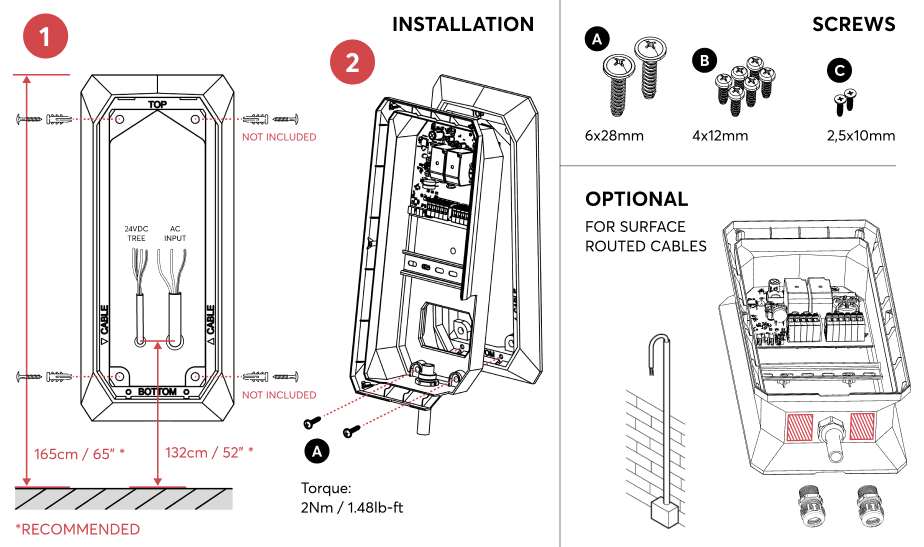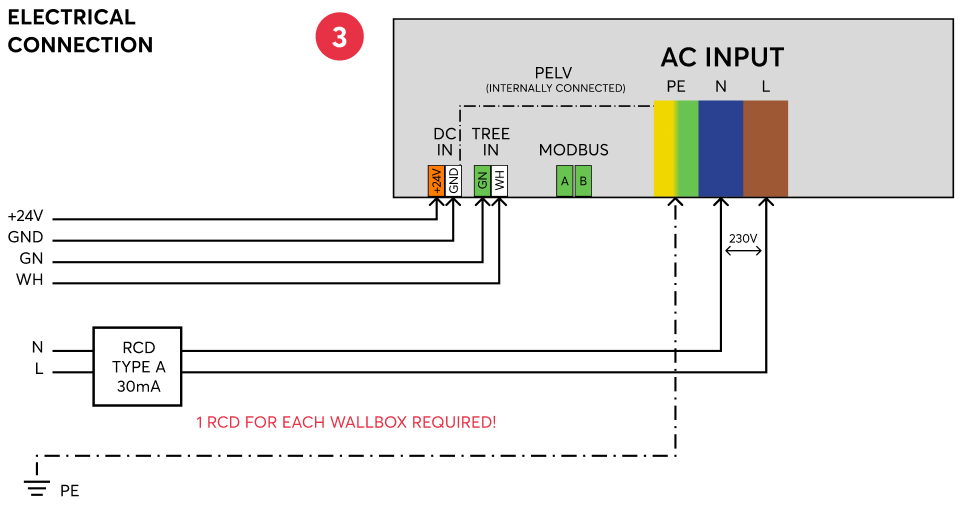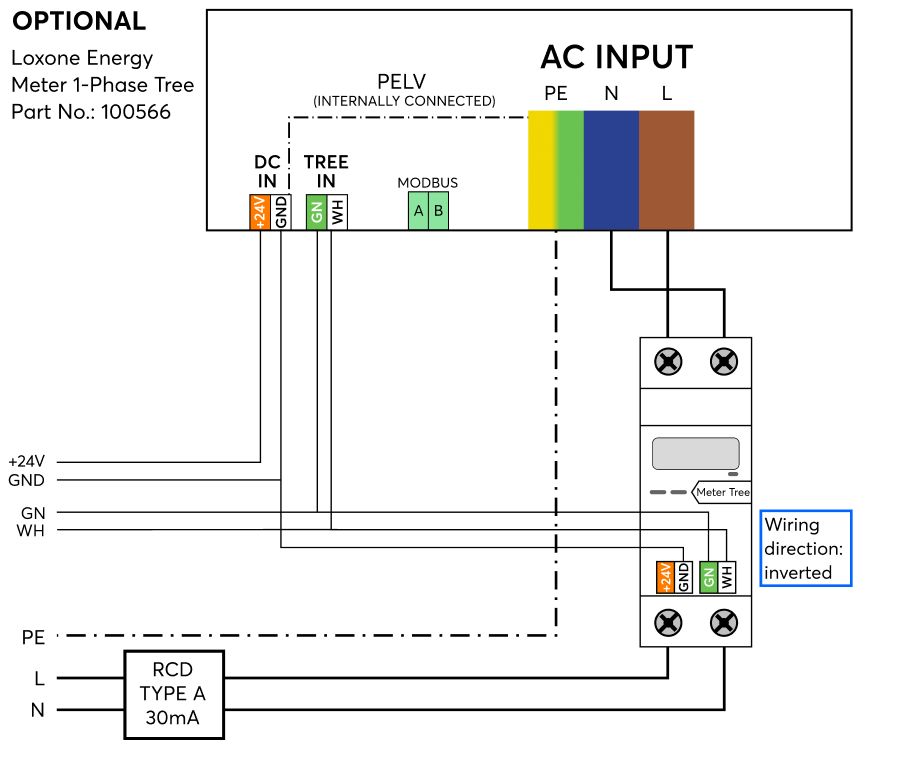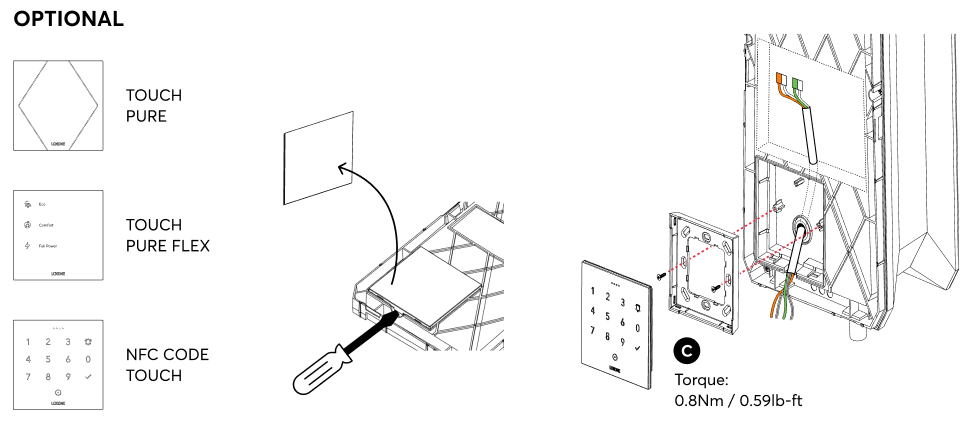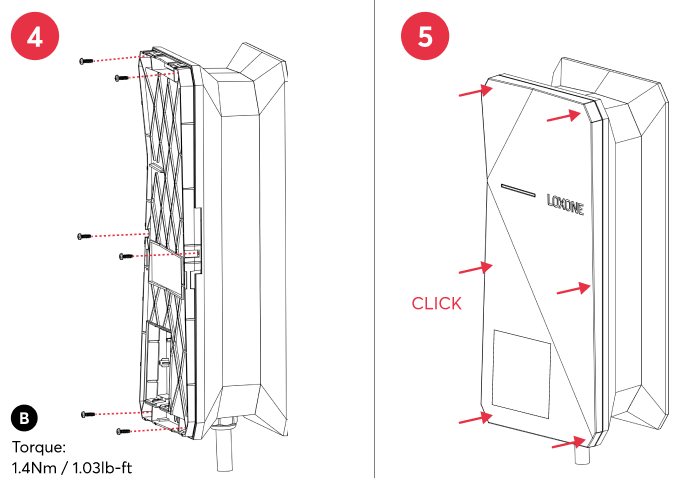 After mounting, the supply voltage (mains voltage and 24V) is switched on, the Wallbox flashes orange after a short time if the connection to the Miniserver is successful and is ready for pairing.
---
Commissioning↑
Then follow the pairing procedure
---
Programming↑
The Loxone Wallbox is programmed and set up using the Wallbox function block in Loxone Config:
---
LED Status↑
| Status LED | Description |
| --- | --- |
| | Device has just been paired or has restarted and is now online. |
| | Connection to Miniserver is okay, but the device has not been paired. |
| | Device cannot connect to the Miniserver via the Tree interface. |
| | Device was selected in Loxone Config and is identifying. |
| | Charging started. |
| | Charging paused. |
| | Charging Error. |
---
Charging Cable↑
If it is necessary to replace the charging cable, this must be installed and tested by a specialist in accordance with national regulations.
For this purpose, a charging cable with the same properties must be used; this may also be shorter or longer (max. 7.5 meters).
Extending the charging cable in any other way is not permitted.
---
Actuators↑
Summary
Description
API Connector
Intelligent API based connector.
API Commands
---
Diagnostic Inputs↑
| Summary | Description | Unit | Value Range |
| --- | --- | --- | --- |
| Charging error | Reports a charging error. | - | 0/1 |
| Fault current | Reports a fault current. | - | 0/1 |
| Online Status Wallbox Tree | | Digital | 0/1 |
| System temperature | | ° | ∞ |
---
Properties↑
Summary
Description
Default Value
Monitor Online Status
When selected, you will be notified via System Status or the Mailer if the device is no longer available or goes offline.
-
Serial Number
Specifies the serial number of the device.
For Extensions: Enter 'Auto' to automatically pair an extension with unknown serial number.
This can only be used if there is only one Extension of the same type.
Save into the Miniserver, in order to pair the Extension.
Afterwards the program must be loaded from the Miniserver to transfer the actual serial number of the Extension into the program.
-
Device type
Tree device type
-
---
Safety Instructions↑
Installation must be carried out by a qualified electrician in accordance with the applicable regulations.
---
Documents↑
Datasheet Wallbox 7.4kW 32A Tree
---