The Loxone Valve Actuator Tree is a motorized valve actuator for heating systems. By using common adapter rings, it can be mounted on a wide range of valves, which are typically used for radiant floor heating and radiators.
Table of Contents
---
Mounting↑
In delivery state, the valve is fully open. The Valve Actuator Tree performs a calibration run after pairing, so it must be installed before initial start-up. Before mounting, make sure that the valve pin is movable and not rusted.
Then snap the actuator onto the adapter ring. Do not apply excessive force. Make sure that the actuator is correctly positioned on the valve. Only use valve adapters suitable for the valve.
Using the supplied IDC Tool, connect the power supply and Tree communication wires.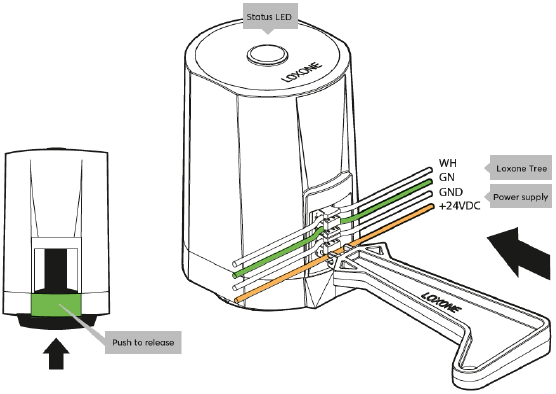 Make sure that no water can drip onto the actuator.
Although the actuator can be mounted in any position, it is recommended to install the actuator above the valve to prevent water dripping onto the actuator in case of a leaking valve or condensation.
| | |
| --- | --- |
| | If a large number of valve actuators share one electrical line with a small wire cross-section, significant voltage drop may occur. In such a case, it is recommended to use a larger wire cross-section for the 24V supply line and to switch to a smaller cross-section just before connecting the actuators. |
A separate circuit is recommended for the power supply of the actuators. Note the inrush current of 50mA at 24VDC. In order to avoid load peaks at the moment of switch-on, a maximum of 5 actuators will start moving simultaneously.
---
Commissioning↑
Then follow the pairing procedure
After pairing, the calibration run starts. The Valve Actuator determines the valve travel and registers the 0% and 100% positions.
By default, the actuator then moves to the 0% position (valve closed). Programming must be created to open the valve again.
---
LED states↑
| LED state | Description |
| --- | --- |
| RED with short interruptions | No communication to Miniserver possible. Please check the wiring. |
| ORANGE on with short intervals | Tree Device was detected on Tree bus, but is not paired with Miniserver. |
| GREEN 3 short flashes | Communication OK, device paired. |
| RED blinking | Online, valve open more than 90%. |
| ORANGE blinking | Online, valve open between 10% - 90%. |
| GREEN blinking | Online, valve less than 10% open. |
| RED rapid flashing | The error "valve stuck" or "no valve detected" is present. Please check the valve pin, it should be easily movable. |
---
Device test and calibration run↑
The actuator can be fully opened or closed for test purposes.
In addition, the actuator can be recalibrated.
Right-click on the actuator in the Periphery tree and select an option:
Device test on: Fully open actuator/valve
Device test off: Fully close actuator/valve
Recalibrate device: Perform calibration run.
---
Sensors↑
| Summary | Description |
| --- | --- |
| No valve detected | No valve was detected |
| Valve is stuck | Indicates a stuck valve |
---
Actuators↑
| Summary | Description | Unit | Value Range |
| --- | --- | --- | --- |
| Valve Actuator | Valve Actuator. | - | - |
| Valve Actuator Tree | | % | ∞ |
---
Diagnostic Inputs↑
| Summary | Description | Unit |
| --- | --- | --- |
| Online Status Valve Actuator Tree | | Digital |
| No Valve Detected | Valve Actuator Tree | Digital |
| Valve is stuck | Valve Actuator Tree | Digital |
---
Properties↑
Summary
Description
Default Value
Monitor Online Status
When selected, you will be notified via System Status or the Cloud Mailer if the device is no longer available or goes offline.
-
Serial Number
Specifies the serial number of the device.
For Extensions: 'Auto' may only be used if only one Extension of this type is being used.
-
Device type
Tree device type
-
Switch off status LEDs
If checked, the status LEDs on the device are switched off in normal operation.
In the event of a fault, the device will continue to alert you to its status LEDs.
-
---
Safety Instructions↑
The installation must be carried out by a qualified technician in accordance with all applicable regulations.
Ensure that the device is protected from water.
The device must not be used as part of safety-critical systems.
---
Documents↑
---