The Tree to Air Bridge is used to integrate various devices that are equipped with the Loxone Air wireless technology, or to extend the Loxone Air's signal range. It is connected via the Tree interface and features a compact design with integrated antenna. Due to the limitation of 50 devices per Tree branch, up to 49 Air devices can be paired to the Tree to Air Bridge.
It can be used, for example, in areas where the wireless range of an Air Base Extension is no longer sufficient, but where connection to a Tree Branch is possible.
Table of Contents
---
Commissioning↑
The Tree to Air Bridge is installed in a suitable enclosure.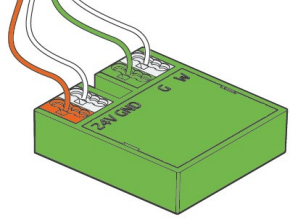 Connect the power supply and Tree communication wires.
| | |
| --- | --- |
| | For best signal performance, make sure that the device is not in close range of metal objects. |
The Tree to Air Bridge starts after switching on the power supply, and the status LED will flash orange after a short time when the connection to the Miniserver is established.
Then follow the pairing procedure
---
Pairing Air Devices↑
Up to 49 Air devices can be paired with a Tree to Air Bridge. Any additional Tree devices on the Tree branch in use reduce the number of possible Air devices. The maximum total number of Tree and Air devices including Tree to Air Bridge on one branch is always 50 devices.
The pairing procedure is identical to the Air Base Extension.
Follow the instructions for pairing Air devices.
---
Diagnostic Inputs↑
| Summary | Unit |
| --- | --- |
| Online status Air Base Extension | Digital |
| Channel Free Air Base Extension | Digital |
---
Preferences↑
Summary
Description
Default Value
Monitor Online Status
If ticked you will be notified via the Loxone App or the Loxone Cloud Mailer when the device is no longer reachable, e.g. goes offline.
-
Serial number
Specifies the serial number of the device.
For Extensions: 'Auto' may only be used if only one Extension of this type is being used.
-
Device type
Tree device type
-
Region (channel)
The selected region affects the operation frequency
Please be aware of local government regulations!
-
Run Air Device Update Sequentially
Only one Air Device is ever updated at the same time. This reduces the utilisation of the radio channel.
-
---
Safety Instructions↑
The installation must be carried out by a qualified technician in accordance with all applicable regulations.
The installation requires a suitable enclosure to ensure protection against contact, water and dust.
The device must not be used as part of safety-critical systems.
---
Documents↑
---