The RS232 Extension is designed to integrate devices with RS232 interface.
In Loxone Config templates for different devices are available for integration.
Table of Contents
---
Commissioning↑
The RS232 Extension is installed on a DIN rail in a suitable enclosure.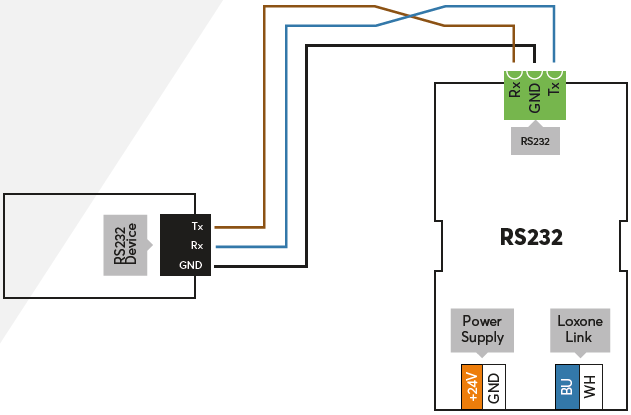 Connect the power supply and Link communication to the Miniserver.
Connect a device with RS232 interface as shown in the example above.
The Extension starts after switching on the power supply, and the status LED will flash orange after a short time when the connection to the Miniserver is established.
Then follow the pairing procedure
---
Adding devices and templates↑
Click on the RS232 Extension and then select a device from the templates, the device settings will be applied automatically: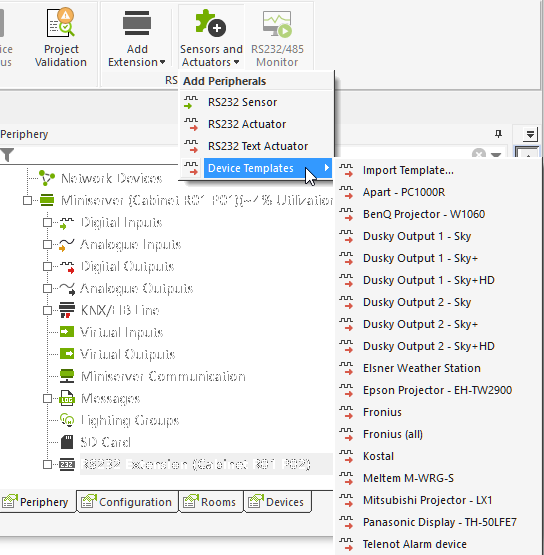 Then the supported sensors and actuators of the selected device are available for programming.
For additional information on how to integrate devices without template, please visit:
Communication with RS232/485
---
Diagnostic Inputs↑
| Summary | Unit | Value Range |
| --- | --- | --- |
| Online Status RS232 Extension | Digital | 0/1 |
---
Properties↑
Summary
Description
Unit
Value Range
Default Value
Serial Number
Specifies the serial number of the device.
For Extensions: 'Auto' may only be used if only one Extension of this type is being used.
-
-
-
Serial Protocol
Selection of the protocol used to decode the data and if available, automatic polling for the device.
-
-
-
Polling cycle
Polling cycle for the selected protocol
0 means that no automatic polling will take place.
If no protocol is selected this value is ignored.
s
0...3600
-1
Protocol Data
Protocol data depends on the selected protocol.
For Kostal a comma separated list of the addresses.
If no protocol is selected this value is ignored.
-
-
-
Baud Rate
Baud rate in bits per second for the serial connection
Bit/s
0...2147483647
9600
Number of data bits
Number of data bits of the serial connection. The extension supports only 8 data bits.
-
8...8
8
Stop Bits
Number of stop bits used (1-2) for the serial communication
-
1...2
1
Parity
Parity for serial connection
-
-
-
Pause
Sets the pause between packets during transmission.
s
0...1
0.01
End character
Identifier for the end of a received serial data package.
When received the data is passed on to the Miniserver for processing.
Enter the identifier using hex. (e.g. 0x0A)
-
-
-
Checksum
Checksum or frame structure for this connection
-
-
-
Positive acknowledge
Reply for a positive acknowledgement of received block
e.g.: 0x06
-
-
-
Negative acknowledge
Reply for a negative acknowledgement of received block
e.g.: 0x15
-
-
-
Monitor Online Status
When selected, you will be notified via System Status or the Mailer if the device is no longer available or goes offline.
-
-
-
---
Safety Instructions↑
The installation must be carried out by a qualified technician in accordance with all applicable regulations.
The installation requires a suitable enclosure to ensure protection against contact, water and dust.
The device must not be used as part of safety-critical systems.
---
Documents↑
---