With the RGBW Dimmer Tree, extra low-voltage LED fittings and LED strips can be dimmed using PWM and any useable colours can be mixed. The 4 outputs can be configured as one RGBW channel, or can be used as 4 separate channels.
The device is also available in a compact housing (RGBW Compact Dimmer Tree). The functions are identical.
Datasheet RGBW 24V Dimmer Tree
Datasheet RGBW 24V Compact Dimmer Tree
Inhaltsverzeichnis
---
Montage↑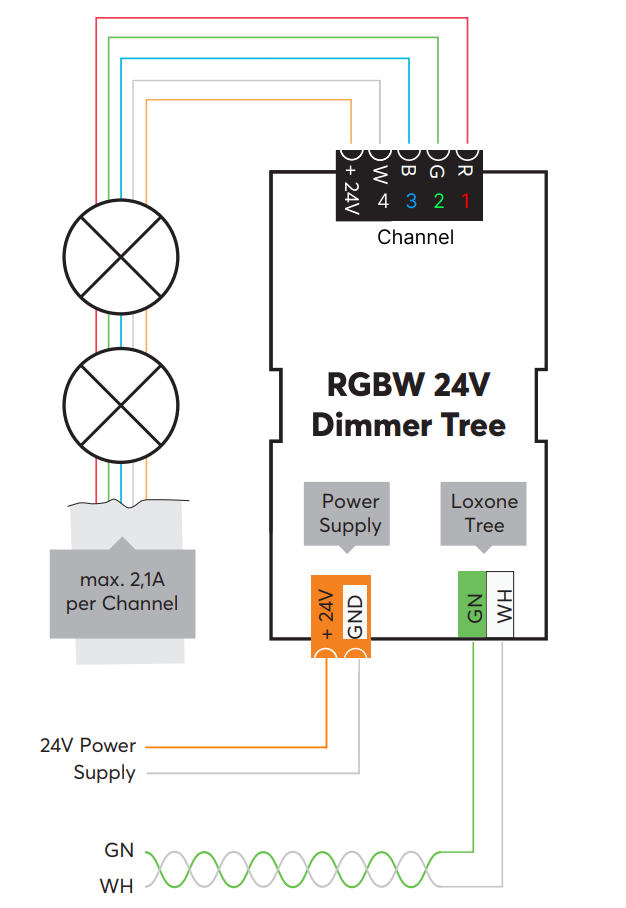 The RGBW Dimmers is installed on a DIN rail in a suitable enclosure. The Compact Dimmer can be used without a separate enclosure. The cable should be kept as short as possible to reduce voltage drop.
The wire size should be selected so that the voltage drop is not more than 1 V. This can be determined using the following formula:
ΔU = I · R = I · ((2 · L · ρ) / A)
I … current [A], L … cable length [m], A … wire cross-section [mm²], ΔU … voltage drop [V], ρ … resistance [( Ω*mm²)/m], ρ= constant (0,0172 for copper)
Connect the power supply and Tree communication wires. Shortly after power-up, the status LED will blink orange if the wiring is correct (connection to Tree Extension and Miniserver is established).
---
Inbetriebnahme↑
Then follow the pairing procedure
---
Individual channels↑
If "Individual channels " is selected as actuator type in the properties of the device, the channel assignment is as follows:
Output 1 - terminal red, output 2 - terminal green, output 3 - terminal blue, output 4 - terminal white
---
Aktoren↑
| Kurzbeschreibung | Beschreibung | Wertebereich |
| --- | --- | --- |
| Smart actuator RGBW | Smart actuator | ∞ |
---
Diagnose-Eingänge↑
| Kurzbeschreibung | Einheit |
| --- | --- |
| Online Status RGBW 24V Dimmer Tree | Digital |
---
Eigenschaften↑
Kurzbeschreibung
Beschreibung
Standardwert
Onlinestatus überwachen
Wenn angehakt, werden Sie über den Systemstatus oder über den Cloud Mailer benachrichtigt, wenn das Gerät nicht mehr erreichbar bzw. offline ist.
-
Seriennummer
Gibt die Seriennummer des Geräts an.
Für Extensions: 'Auto' darf nur verwendet werden, wenn nur eine Extension dieses Typs vorhanden ist.
-
Gerätetyp
Tree Gerätetyp
-
Aktortypen
Gerät mit Standard-Aktor(en) oder Smart-Aktor(en) nutzen
Smart-Aktoren unterstützen dynamische Fadingzeiten und funktionieren nur mit dem Baustein Lichtsteuerung V2
-
Status LEDs ausschalten
Wenn angehakt werden die Status LEDs am Gerät im Normalbetrieb abgeschalten.
Im Falle eines Fehlers wird das Gerät weiterhin über dessen Status LEDs auf sich aufmerksam machen.
-
---
Sicherheitshinweise↑
The installation must be carried out by a qualified technician in accordance with all applicable regulations.
The installation requires a suitable enclosure to ensure protection against contact, water and dust.
The device must not be used as part of safety-critical systems.
---
Dokumente↑
Datasheet RGBW 24V Dimmer Tree
Datasheet RGBW 24V Compact Dimmer Tree
---