With the RGBW Dimmer Air, extra low-voltage LED fittings and LED strips can be dimmed using PWM and any useable colours can be mixed. The 4 outputs can be configured as one RGBW channel, or can be used as 4 separate channels.
The device is also available in a compact housing (RGBW Compact Dimmer Air). The functions are identical.
Datasheet RGBW 24V Compact Dimmer Air
Table of Contents
---
Mounting↑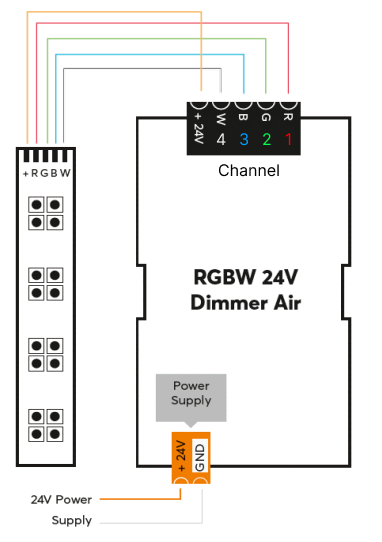 The RGBW Dimmers is installed on a DIN rail in a suitable enclosure. The Compact Dimmer can be used without a separate enclosure. The cable should be kept as short as possible to reduce voltage drop.
The wire size should be selected so that the voltage drop is not more than 1 V. This can be determined using the following formula:
ΔU = I · R = I · ((2 · L · ρ) / A)
I … current [A], L … cable length [m], A … wire cross-section [mm²], ΔU … voltage drop [V], ρ … resistance [( Ω*mm²)/m], ρ= constant (0,0172 for copper)
---
Commissioning↑
In delivery state, pairing mode will be active after the power supply has been established. This is indicated by the status LED flashing red/green/orange.
Then follow the pairing procedure
To activate the pairing mode manually, switch off the power for 10 seconds, then switch it back on. If no connection to a Miniserver can be established for two minutes, then pairing mode is activated for 30 minutes.
---
Individual channels↑
If "Individual channels " is selected as actuator type in the properties of the device, the channel assignment is as follows:
Output 1 - terminal red, output 2 - terminal green, output 3 - terminal blue, output 4 - terminal white
---
Actuators↑
| Summary | Description | Value Range |
| --- | --- | --- |
| Smart actuator RGBW | Smart actuator | ∞ |
---
Diagnostic Inputs↑
| Summary | Unit |
| --- | --- |
| Online Status RGBW 24V Dimmer Air | Digital |
---
Properties↑
Summary
Description
Default Value
Monitor Online Status
When selected, you will be notified via System Status or the Cloud Mailer if the device is no longer available or goes offline.
-
Air serial number
Serial number of the Air device
-
Device type
Air device type
-
Actuator Type
Use device with Standard Actuator(s) or Smart Actuator(s)
Smart Actuators support dynamic fade times and can only be used with the Lighting Controller V2.
-
---
Safety Instructions↑
The installation must be carried out by a qualified technician in accordance with all applicable regulations.
The installation requires a suitable enclosure to ensure protection against contact, water and dust.
The device must not be used as part of safety-critical systems.
---
Documents↑
Datasheet RGBW 24V Compact Dimmer Air
---