Power Supply & Backup (Device)
The Loxone Power Supply & Backup is a DIN-rail mounted power supply for up to 40A. It offers seven outputs providing 24VDC for up to 10A each.
Each output comes with a dedicated fuse and power measurement.
Additionally connect a 36VDC battery to power-backup your Loxone installation in case of power failure. Of course, without interruption.
Datasheet Power Supply & Backup
Table of Contents
---
Mounting↑
Mount on a DIN rail in a suitable distribution enclosure with a minimum volume of 100l / 6100 cu in.
Ensure heat dissipation by mounting horizontally in the lower area of the enclosure and providing a 50mm / 2" clearance below and above the unit. Do not cover ventilation openings.
Connect the mains supply, 24V outputs, and the Tree data lines: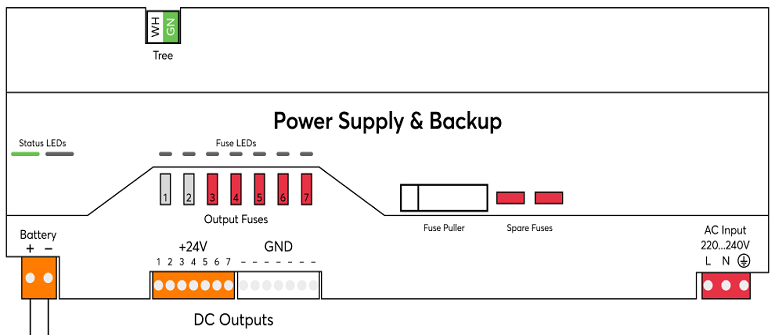 To use the optional backup function, a 36V battery is connected.
The 24V outputs allow the creation of 7 circuits.
The outputs are basically identical, except for the fuses, which can be changed as needed.
From the factory, the first two outputs are equipped with 2A fuses suitable for low power devices.
Recommendation: The first output to supply Miniserver and Extensions in the distribution board, the second one for the peripheral sensors in the building.
The remaining outputs are equipped with 10A fuses, making them suitable for circuits for powerful loads such as lighting and audio.
Select the fuses according to the conductor cross-section used and the load at the respective output.
After completion of the overall installation, the mains voltage supply can be switched on.
---
Commissioning↑
Then follow the pairing procedure
The configuration of the power supply is done with the Function Block of the same name in Loxone Config.
Drag the power supply from the periphery tree to the programming page to insert the function block.
---
Connect Batteries↑
For the backup function, a battery with 36V nominal voltage is connected to the battery input.
This can be achieved by connecting three 12V batteries in series. Only batteries of the same capacity, type and age may be connected in series.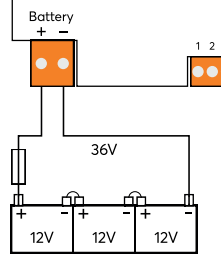 The capacity of a single battery of the series connection must be entered in the settings of the device in Loxone Config.
The charging electronics of the power supply is designed for lead-acid batteries in standby application.
Sealed (VRLA/SLA) Gel or AGM batteries are recommended, which are suitable for this application.
For battery installation and recommended environmental conditions, please follow the instructions of the respective battery manufacturer.
The battery cables and their fuse protection near the battery must be dimensioned according to the technical data (36V/25A) and local regulations. This often results in a cross-section of 4mm² / AWG10 and a slow-acting fuse type with 25A.
---
Replace Fuses↑
A blown fuse is indicated by the red LED lighting up above it:

Remove the fuse puller from the front panel and use it to pull out the blown fuse.
Replacement fuses are located on the right side of the front panel. Replace a blown fuse only with one of the same value / color!
Suitable replacement fuses of the type Littelfuse® 297 are also called automotive flat fuse Mini 32V, APM/ATM, and are available in automotive accessory stores, among others.
The red LED above the fuse should then go out.
If the LED does not go out, or lights up again after a short time, it is due to a short circuit, an overload, or a fuse with too small a current rating was used.
In this case, consult a Loxone partner or qualified electrician.
---
Actuators↑
| Summary | Description |
| --- | --- |
| API Connector | Intelligent API based connector. |
---
Diagnostic Inputs↑
| Summary | Description | Unit | Value Range |
| --- | --- | --- | --- |
| Fuse 1 | Active when Fuse 1 is blown | - | 0/1 |
| Fuse 2 | Active when Fuse 2 is blown | - | 0/1 |
| Fuse 3 | Active when Fuse 3 is blown | - | 0/1 |
| Fuse 4 | Active when Fuse 4 is blown | - | 0/1 |
| Fuse 5 | Active when Fuse 5 is blown | - | 0/1 |
| Fuse 6 | Active when Fuse 6 is blown | - | 0/1 |
| Fuse 7 | Active when Fuse 7 is blown | - | 0/1 |
| Battery Test | Active while Battery test is running | - | 0/1 |
| Soc | Battery State of charge | % | - |
| Online Status Power Supply & Backup | | Digital | 0/1 |
| System temperature | | ° | ∞ |
---
Properties↑
Summary
Description
Unit
Value Range
Default Value
Monitor Online Status
You will be notified via System Status or Could Mailer if the device is no longer available or offline.
As this device and it's functionality are critical to safety, it is not possible to disable this setting for this device.
-
-
-
Serial Number
Specifies the serial number of the device.
For Extensions: 'Auto' may only be used if only one Extension of this type is being used.
-
-
-
Device type
Tree device type
-
-
-
Output-Voltage
Output-Voltage for all outputs
V
24...27
24
Battery-Capacity
Capacity of a single Battery (not Sum of all Batteries).
Ah
1...200
20
Supply Type
Device is used as a power supply. If batteries are connected, the backup function can also be used.
-
-
-
Configuration
Configuration of the Inputs and Outputs Used.
-
-
-
---
Safety Instructions↑
Installation must be carried out by a qualified electrician in accordance with the applicable regulations.
This device must be mounted on a DIN rail in an electrical distribution enclosure to ensure protection against contact, water and dust.
This device must not be used as part of safety-critical systems.
---
Documents↑
Datasheet Power Supply & Backup
---