The Loxone Meter Reader IR Air allows the direct reading of compatible electronic electricity meters or heat meters with infrared interface.
Table of Contents
---
Mounting↑
The Meter Reader IR Air magnetically attaches to the circular infrared interface of the meter. The device is supplied with power (12-24VDC) either by using the enclosed Micro USB power adapter or via the terminals. Position the device on the meter so that the USB port points downwards and the Loxone logo is displayed correctly.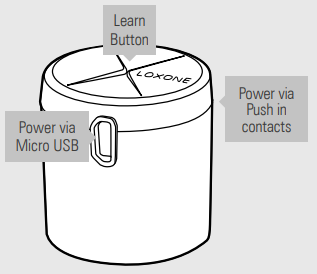 A magnetic ring in the Meter Reader holds the device to the meter's IR interface.
Some meters may already be equipped with a built-in magnetic ring. Depending on the magnet's polarity, the two magnets may repel each other.
In such a case, the Loxone Meter Reader IR Air can be opened to adjust the orientation of the magnetic ring.
---
Commissioning↑
In delivery state, pairing mode will be active after the power supply has been established. This is indicated by the status LED flashing red/green/orange.
Then follow the pairing procedure
To activate the pairing mode manually, hold down the pairing button for at least 5 seconds after establishing power supply. The pairing button and status LED are located centrally on the top of the device.
---
Sensors↑
| Summary | Description | Unit | Value Range |
| --- | --- | --- | --- |
| Energy drawing | Provides the value of the energy drawn | kWh | - |
| Energy supply | Provides the value of the energy supplied | kWh | - |
| Power | Provides the measured value of the current power | kW | - |
| Energy related | | kWh | ∞ |
| Energy Export | | kWh | ∞ |
| Power | | kW | ∞ |
---
Diagnostic Inputs↑
| Summary | Unit | Value Range |
| --- | --- | --- |
| Online Status Meter Reader IR Air | Digital | 0/1 |
---
Properties↑
Summary
Description
Default Value
Monitor Online Status
When selected, you will be notified via System Status or the Mailer if the device is no longer available or goes offline.
-
Air serial number
Serial number of the Air device
-
Device type
Air device type
-
AES Key
For meters with an encrypted interface (e.g. AMIS), this AES key (customer key) must be requested from the energy supplier and entered here.
No key is required for unencrypted meters.
-
Meter Type
Type of Meter
Please note that depending on your supplier not all data may be available, often current power readings are not available!

-
---
Safety Instructions↑
The installation must be carried out by a qualified technician in accordance with all applicable regulations.
Ensure that the device is protected from water.
The device must not be used as part of safety-critical systems.
---
Documents↑
---