Loxone Hörmann Air is a compact interface module for integrating Hörmann garage door operators.
Hörmann drives of the types WA 300 cannot be controlled under certain circumstances.
In this case, contact Hörmann customer service for troubleshooting.
Table of Contents
---
Mounting↑
Hörmann Air is connected to the BUS socket of a compatible Hörmann door operator using the enclosed adapter cable. It is also supplied with voltage via this socket.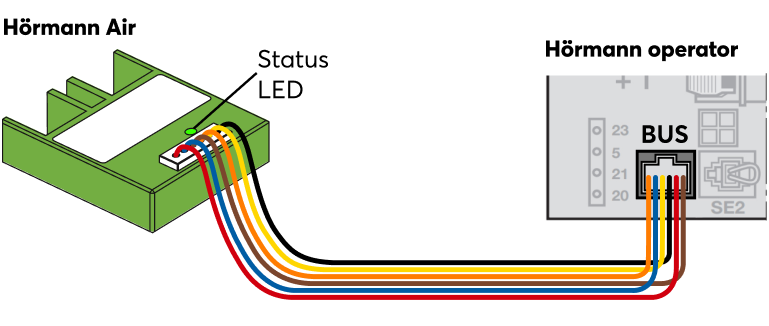 For HCP1 operators, the device is then ready for pairing.
The door operator is then recognized automatically.
For HCP2 operators, the BUS-Scan and thus the power supply for the device must first be activated at the door operator in order to be able to pair the device afterwards. Activation varies depending on the door operator:

After activating the BUS-Scan (power supply), the device can be paired.
The door operator is then recognized automatically.
---
Commissioning↑
In delivery state, pairing mode will be active after the power supply has been established. This is indicated by the status LED flashing red/green/orange.
Then follow the pairing procedure
To activate the pairing mode manually, switch off the power for 10 seconds, then switch it back on. If no connection to a Miniserver can be established for five minutes, pairing mode will be activated for a limited time.
---
Programming↑
Loxone Hörmann Air is programmed and set up using the Garage / Gate function block in Loxone Config: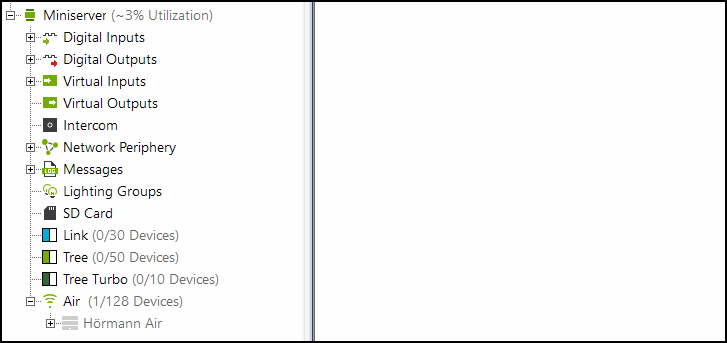 The (Po) input (partially open) of the Garage/Gate block is also supported by Hörmann Air.
---
Limitations↑
With HCP1 drives, an error may briefly be displayed on the drive during an update. The function is not affected. After sending a command again, the error is no longer displayed.
When using the Hörmann Air, the Hörmann HKSI climate sensor cannot be used in parallel.
---
Softwareindex↑
With the softwareindex the compatibility to Loxone Hörmann Air can be checked, the supported operators are listed in the datasheet.
On the label of the Hörmann garage door operator you will find the serial number with the softwareindex, which begins with a capital letter.

---
Actuators↑
Summary
Description
Value Range
API Connector
Intelligent API based connector.
API Commands
-
Light
Activates the lighting of the door operator manually.
Independently of this, the door operator always activates its lighting itself when the door is opened or closed. After that, the lighting remains active for a time defined in the operator.
0/1
---
Diagnostic Inputs↑
| Summary | Unit | Value Range |
| --- | --- | --- |
| Online Status Hörmann Air | Digital | 0/1 |
| Actuator information | Digital | 0/1 |
| Communication error | Digital | 0/1 |
| No communication | Digital | 0/1 |
---
Properties↑
| Summary | Description | Unit | Value Range | Default Value |
| --- | --- | --- | --- | --- |
| Monitor Online Status | When selected, you will be notified via System Status or the Mailer if the device is no longer available or goes offline. | - | - | - |
| Serial Number | Serial number of Air device | - | - | - |
| Device type | Air device type | - | - | - |
| Automatically learn travel durations | Automatically learn travel durations | - | - | - |
| Opening duration | Time required for complete opening | s | ∞ | 60 |
| Closing duration | Time required for complete closing | s | ∞ | 60 |
---
Documents↑
---