Belimo is one of the leading manufacturers in the area of climate control.
The Loxone Belimo Tree is an interface to integrate up to 16 Belimo MP-Bus devices. With the native MP-Bus integration, Belimo products become a native member of Loxone Config and the Miniserver.
Table of Contents
---
Mounting↑
Install the device in a suitable installation box.

Connect the power supply (orange/white terminal) and Tree communication wires (green/white terminal).
Connect the orange MP-Bus lead to the MP-Bus nodes. The GND of the MP-Bus nodes must be connected to the GND of the Belimo Tree.
While 24VAC power supply is possible for many MP-Bus devices, the Belimo Tree can only be supplied with 24VDC.
Shortly after power-up, the status LED will blink orange if the wiring is correct (connection to Tree Extension and Miniserver is established).
---
Commissioning↑
Then follow the pairing procedure
---
Commissioning Belimo devices↑
There are 3 ways to insert Belimo devices: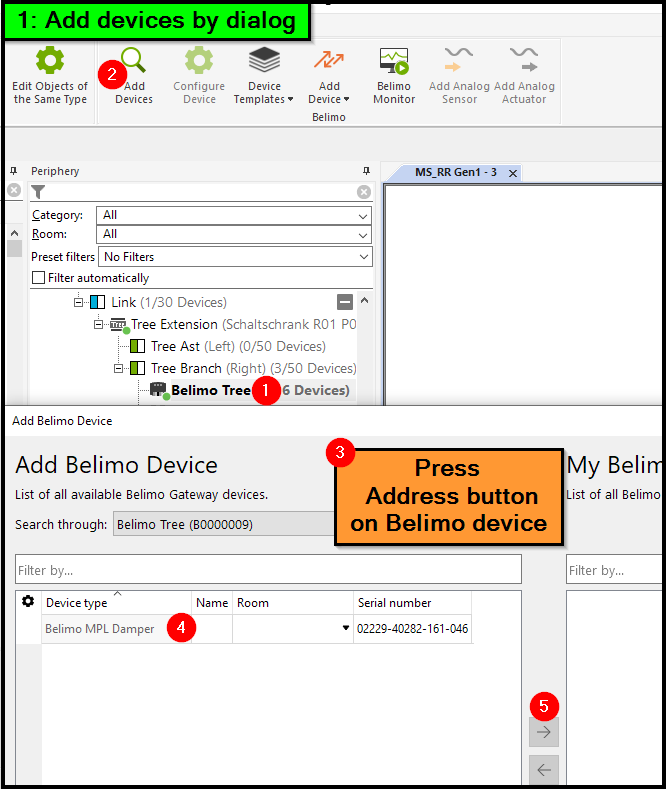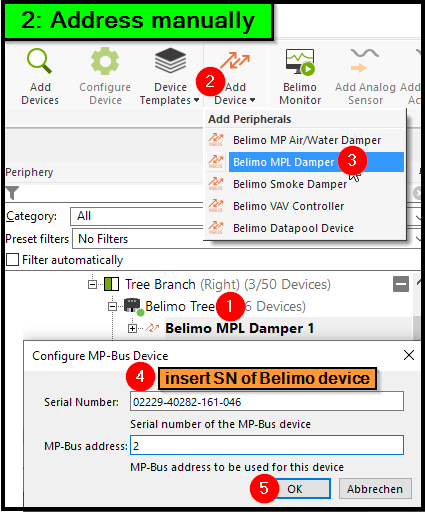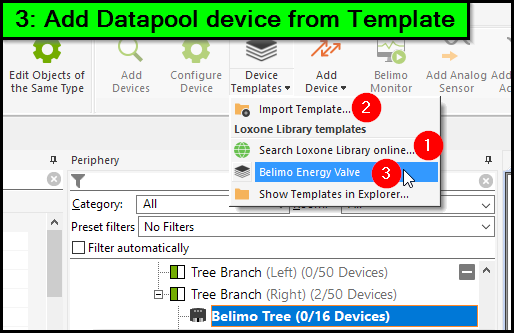 If Belimo devices are addressed via the Belimo App, their address and serial number is entered in the properties: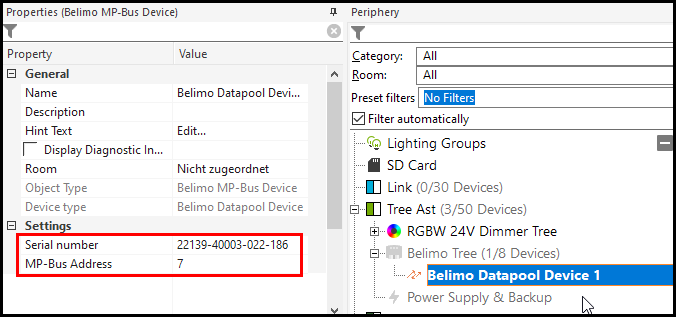 For more informations, please visit the Belimo Documentation.
---
Diagnostic Inputs↑
| Summary | Unit | Value Range |
| --- | --- | --- |
| Online Status Belimo Tree | Digital | 0/1 |
---
Properties↑
Summary
Description
Value Range
Default Value
Monitor Online Status
When selected, you will be notified via System Status or the Mailer if the device is no longer available or goes offline.
-
-
Serial Number
Specifies the serial number of the device.
For Extensions: 'Auto' may only be used if only one Extension of this type is being used.
-
-
Device type
Tree device type
-
-
MP-Bus Supply
Specifies if MP-Bus supply is active
-
-
Device Status Update Cycle[s]
Belimo device specific status update cycle time in seconds (10 - 600)
10...600
10
---
Documents↑
---