Il blocco Irrigazione è usato per controllare un sistema di irrigazione, per esempio in giardino.
È in grado di includere dati meteorologici come le precipitazioni e le previsioni, permettendo l'irrigazione in base alla necessità.
Contenuto
---
Ingressi↑
Alias
Descrizione breve
Descrizione
Unità
Campo di valore
Act
Activation
Attiva l'irrigazione.
Viene avviata solo se non ha piovuto per un tempo sufficientemente lungo e non è prevista una quantità sufficiente di pioggia.
-
0/1
Sel
Select valve
Attiva la valvola (V1-8).
0 - disattiva tutte le valvole
9 - attiva tutte le valvole
-
0...9
Raf
Rain forecast
Ingresso per la quantità prevista di precipitazioni nelle prossime ore
l/m²
0...∞
Ra
Rain
Ingresso per un sensore di pioggia o per informazioni paragonabili.
Usato per determinare la durata della pioggia.
-
0/1
Off
Off
Impulso: le uscite vengono resettate/spente.
On: Il blocco è bloccato.
Ingresso dominante.
Il nome del sensore collegato viene utilizzato nell'interfaccia utente.
-
0/1
---
Uscite↑
Alias
Descrizione breve
Descrizione
Campo di valore
P
Pump
Uscita per il controllo di una pompa
0/1
V1-8
Valve 1-8
Uscita per il controllo di una valvola
0/1
Av
Active valve
Valvola attualmente attiva
0 - Tutte spente
9 - Tutte attive
0...9
AC
API Connector
Connettore intelligente basato su API.
Comandi API
-
---
Parametro↑
| Alias | Descrizione breve | Descrizione | Unità | Campo di valore | Valore standard |
| --- | --- | --- | --- | --- | --- |
| MaxR | Maximum precipitation in the next set hours | Se la previsione delle precipitazioni (Raf) è maggiore di questo valore, l'irrigazione non viene più attivata tramite l'ingresso (Act). | l/m² | 0...∞ | 2 |
| MaxRa | Maximum rain duration in the last 24 hours | Se nelle ultime 24 ore ha piovuto complessivamente per più di questo tempo, l'irrigazione non viene più attivata tramite l'ingresso (Act). | s | 0...∞ | 1800 |
| Tv1-8 | Valve Time 1-8 | Determina per quanto tempo la valvola è attiva fino all'attivazione della successiva. | s | 0...∞ | 600 |
---
Proprietà↑
| Descrizione breve | Descrizione | Campo di valore | Valore standard |
| --- | --- | --- | --- |
| Numero di messaggi | Numero massimo di messaggi salvati. | 1...50 | 50 |
| Configurazione | Configurazione delle zone di irrigazione | - | - |
---
Esempio di applicazione↑
Con un doppio clic sul blocco o nelle sue impostazioni, si apre la finestra di configurazione, in cui si possono nominare le zone per l'irrigazione e si può inserire una durata di irrigazione per ciascuna.
Ognuna di queste zone può controllare separatamente valvole o gruppi di valvole tramite un'uscita: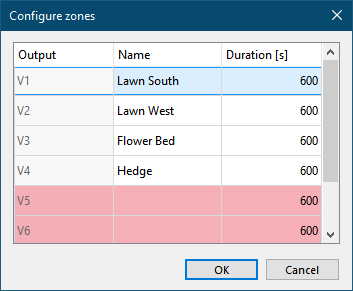 In questo esempio, si tratta di quattro zone per irrigare due prati, un'aiuola e una siepe. In questo modo, si possono configurare fino a 8 zone nel blocco.
Succesivamente gli ingressi e le uscite del blocco sono collegati nella programmazione:

Le uscite $$B:(V1-8)$$ del blocco sono utilizzate per controllare le valvole di irrigazione. Una volta collegata la prima uscita, verranno visualizzate altre uscite.
L'$$B:uscita(P)$$ è utilizzata per controllare la pompa di irrigazione.
A seconda dell'applicazione, potrebbe essere necessaria una logica aggiuntiva, ad esempio per disattivare la pompa quando il livello dell'acqua è basso.
Un sensore di pioggia è collegato all'$$B:ingresso (Ra)$$ per determinare la durata della pioggia. Nell'esempio, viene utilizzata la variabile di sistema per la pioggia.
L'$$B:ingresso (Ra)$$ viene utilizzato per fornire al blocco una previsione delle precipitazioni previste per le ore successive. Il servizio meteorologico di Loxone è ideale per questo scopo; nell'esempio viene utilizzata la variabile di sistema per le precipitazioni previste.
L'ingresso(Act) abilita l'irrigazione, ad esempio con un impulso a una certa ora.
Tuttavia, l'irrigazione inizierà solo se la pioggia nel passato recente è stata insufficiente (ingresso Ra, parametro MaxR) e se anche la quantità di pioggia prevista è insufficiente (ingresso Raf, parametro MaxR).
All'avvio dell'irrigazione, la pompa viene attivata e le uscite delle valvole vengono attivate una alla volta per il tempo impostato (Tv1-8).
In alternativa, è possibile selezionare un'uscita specifica della valvola mediante un valore analogico tramite l'ingresso (Sel), oppure attivare tutte le uscite valvola (valore 9).
Nella Visualizzazione l'irrigazione può essere avviata manualmente e la durata dell'irrigazione può essere modificata: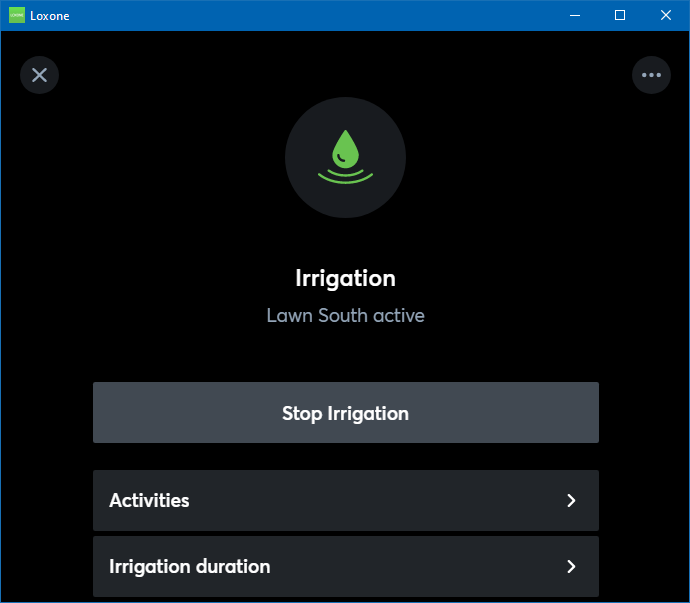 A differenza dell'attivazione logica tramite l'ingresso del blocco funzione (Act), l'attivazione manuale dell'irrigazione nell'interfaccia utente avvierà l'irrigazione in ogni caso, anche se è prevista pioggia o è stata sufficiente.
Inoltre, è incluso un elenco delle attività recenti: