Een scène bevat een actielijst die wordt uitgevoerd met de objectingang of via de visualisatie.
Een scène lijkt sterk op de automatische regel, er kunnen een of meer acties worden geselecteerd.
Echter kunnen voor een scène geen voorwaarden worden gedefinieerd. De acties in de scène worden alleen uitgevoerd wanneer de scène via de (Act) invoer of in de gebruikersinterface wordt geactiveerd.
De scènes worden voor de bediening in de visualisatie weergegeven, maar kunnen ook in het menu aangemaakt, bewerkt of gewist worden.
Inhoudsopgave
---
Ingangen↑
Contractie
Korte beschrijving
Beschrijving
Waardebereik
Act
Activate scene
Activeer stemming
0/1
Off
Off
Aan: Bouwsteen is vergrendeld.
Dominerende ingang.
De naam van de aangesloten sensor wordt gebruikt in de gebruikersinterface.
0/1
---
Uitgangen↑
Contractie
Korte beschrijving
Beschrijving
AC
API Connector
Intelligente API gebaseerde connector.
API Commands
---
Eigenschappen↑
| Korte beschrijving | Beschrijving | Standaardwaarde |
| --- | --- | --- |
| Configuratie | Configuratie weergeven | - |
---
Toepassingsvoorbeeld↑
Het volgende voorbeeld toont een scène die een bioscoopmodus in de woonkamer activeert.
Daartoe zijn de reeds in de programmering aanwezige acties TV inschakelen, Zonwering verlagen, en de lichtscène bioscoop geselecteerd: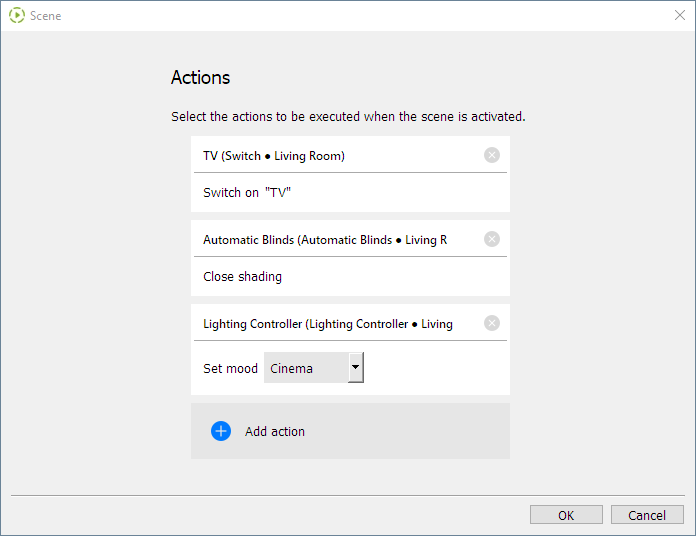 Daarna wordt het venster gesloten, de scène krijgt een naam, ruimte en categorie worden toegewezen en het programma wordt opgeslagen in de Miniserver.
In de visualisatie/App wordt de scène dan in de toegewezen ruimte weergegeven en kan met een druk op de rechter knop worden geactiveerd: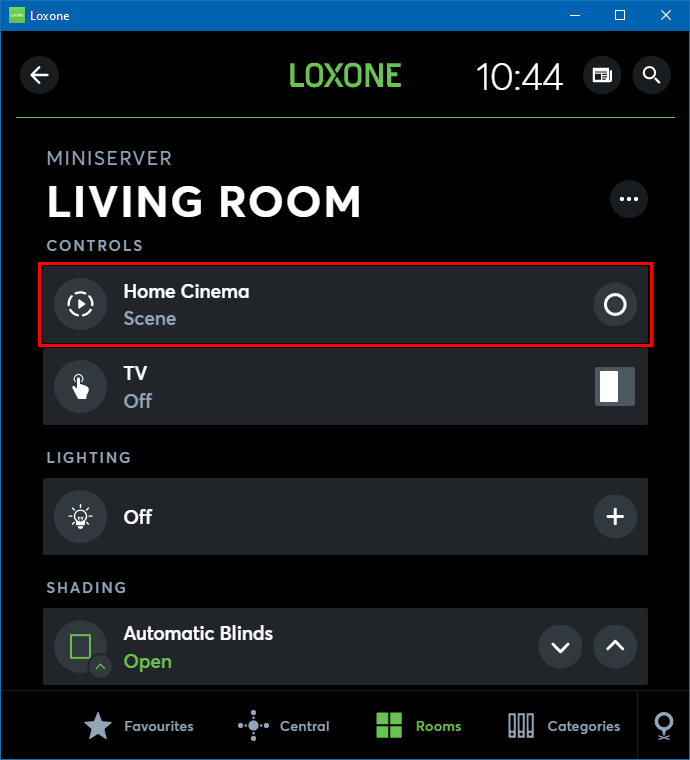 De scène kan ook worden geopend, zodat de acties kunnen worden bekeken en bewerkt: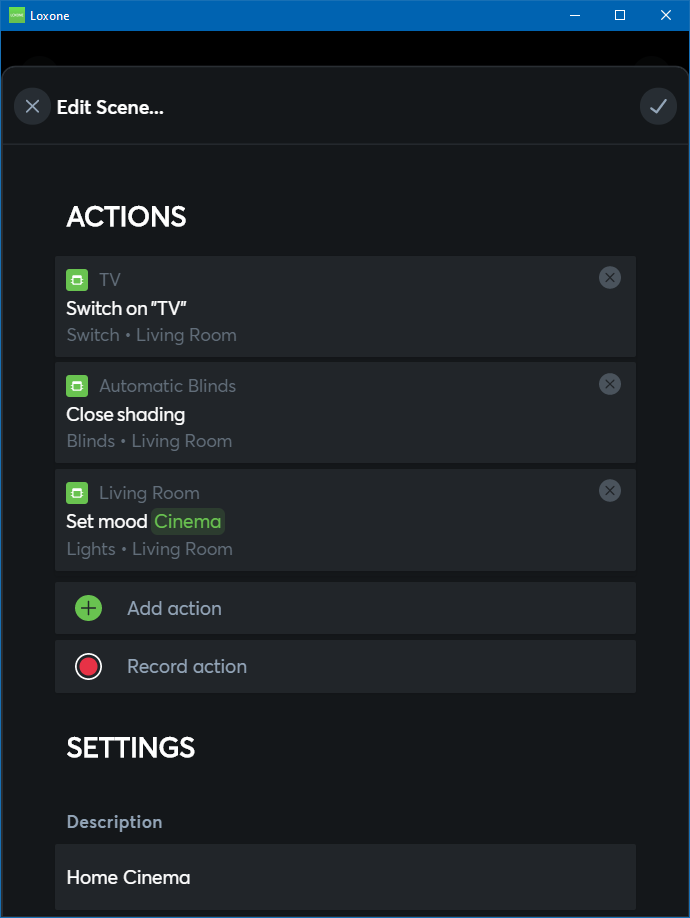 Alle bestaande scènes worden weergegeven onder het item scènes in het menu Visualisatie/App. Daar kunt u ook nieuwe scènes maken of bestaande scènes bewerken.